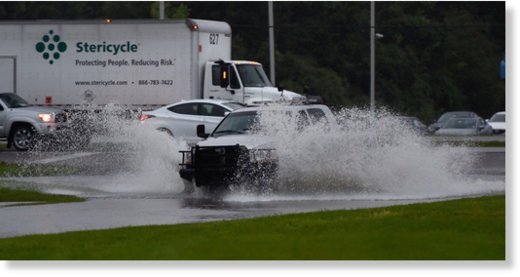 Heavy rain expected to stay through Friday and into the weekend has prompted historic flooding in the Baton Rouge area, forcing people from their homes, snarling traffic and closing schools throughout southeast Louisiana.
In Central, flooding is forcing several hundred people to get things out of their homes in the face of rising water, according to Central Mayor Jr. Shelton.
"Virtually every road now in the city has some kind of water problem," he said, with many roads closed.
"We've never seen anything like this before."
Andrew Simar, 25, of Hooper Road in Central, was getting gas in his car around 11 a.m. after just barely getting out of his flooding home with his wife and three-year-old son.
The couple started packing Friday morning after his wife returned home from LSU because of cancelled classes and the news reported the possibility of flash flooding.
Their preparations got cut short when Simar saw just how fast the water was rising.
"Water rose into the house within 30 minutes," Simar said. "My car had water in it."
Luckily, his wife's car had more elevation and by following behind a large truck making a wake in the road, they were able to escape. However, he said, many of his neighbor's homes are lower in elevation, and they likely were trapped.
Jessica Newman, 31, of Central, said her house wasn't flooded but she knew here parents home in Pride was likely to have water in it soon Friday morning.
"They're just kind of stuck there," she said.
In talking with officials at Baker and Zachary Shelton said they're all facing the same problems.
A shelter in Central area has been opened at the North Sherwood Recreation Center, Shelton said.
"It's an event we've never seen in Central before," Shelton said.
The rainfall has prompted a number of schools to close for the day, as well as several state...
Outside the Tangipahoa emergency operations center in Amite, disaster workers' trucks are leaving wakes in the floodwaters streaming across even major roads.
Flooding has hit Tangipahoa parish-wide, said parish president Robby Miller. The north end around Kentwood was especially impacted.
Approximately 60 people have been evacuated so far, Miller said. Multiple shelters have been established, though the parish president said many residents were able to care for themselves when they woke up and saw the driving rain which continues to fall.
Conditions are similar to march's devastating flood, though Lake Ponchartrain is lower and the wind is blowing out this time, which will help recovery, Miller said.
Local and state emergency forces have been joined by the national guard, and Miller said rescue efforts will continue.
Torrential rains have caused flooding across the Baton Rouge area on Friday.
Roughly 30 roads have been closed throughout the parish,
including Interstate 55 at mile marker 52 between Kentwood and Roseland and U.S. 51 between La. 38 and La. 10, Miller said.
The railroad tracks are under water at La. 38, and that area has been closed to all traffic.
Other roads closed include La. 10 at the Tangipahoa River near Arcola, La. 40 in the Independence/Loranger area, La. 1050 and La. 440 west of I-55, Miller said. Also, DOTD said US 190 eastbound is closed in both directions between US-51X and LA 443 due to flooding.
Denham Springs Mayor Gerard Landry said flooding is pervasive in the city.
"We've got water in places we've never had it,"
Landry said around 8:30 a.m. Friday. "There are houses in The Willows threatening to take on water, which has never been an issue."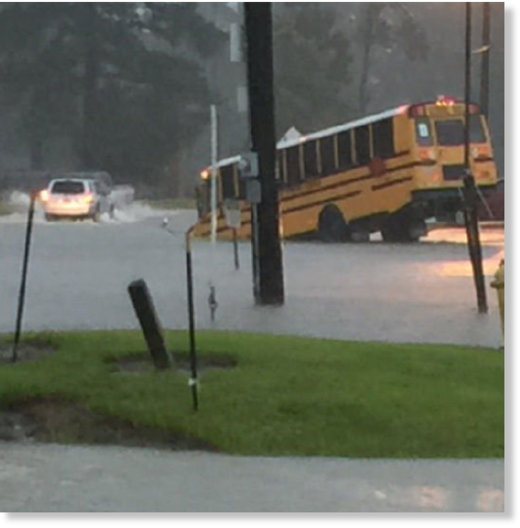 Flooded areas include the low spots on River Road (particularly around First Baptist Church), Range Avenue at Centerville, Jason Drive and the South Woodcrest area, Landry said.
Several roads are closed due to high water, and officials are urging residents to stay off the roads as much as possible.
Sandbags are available at the fire stations.
St. Helena Chief of Detectives Joe Chaney, speaking by phone from a Humvee on Friday morning, said parish officials are actively rescuing people from flooded homes across the parish. Numerous roads are closed throughout St. Helena, particularly around Greensburg.
Chaney said he did not yet know if a shelter had been set up for St. Helena residents. At least one of those rescued from an inundated home Friday had to be taken to a hospital for unspecified injuries.
Emily Payne, a nurse at the St. Helena Parish Hospital, said the hospital's emergency room is on diversion, meaning all emergency services are being sent to other medical facilities, because of extensive flooding in the Greensburg area.
The bridge on La. 10, which crosses the Joseph Branch of the Tickfaw River, has taken on water and is closed, Payne said.
Numerous highways in and around Greensburg are closed, including La. 10 east of town, La. 37 near La. 449, La. 43 north of La. 10 and La. 441 north of La. 10, the Louisiana Department of Transportation and Development said.
The hospital took on water in its kitchen area, though Payne said the damage was minor.
About 50 people were shoveling sand into bags and onto their truck beds just before noon outside the Denham Springs Fire Department, which is providing the sand for free.
People are being asked to bring their own bags because supplies are running out.
Parts of Denham Springs are flooded and several streets are shut off.
"If the river floods, my house is gone," said Mike McCaa, referring to the Amite River, set to swell to record levels this weekend.
Trey Durant, who spent at least two hours helping people fill sandbags and said he used to work for the fire department, said flooding is exacerbated when people drive quickly through water, pushing liquid further toward people's houses.
As flash flooding occurs, some local roads are being covered with water, and it's important not to drive through flooded streets. Just six inches of fast moving flood water can knock a person over and a foot of flood water can carry away a small car. In addition, flooded roads can hide problems like a washed away roadway or debris.
As rivers continue to rise, at least one area has beat a record. Tickfaw River at Liverpool hit 13.33 feet Friday morning beating the previous river level record of 13.30 feet set in 1983, according to the National Weather Service. The river in that section is expected to continue to rise to 13.5 feet later this afternoon before it starts to recede again.