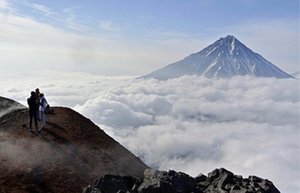 The Russian Emergencies Ministry reports no casualties
About a dozen of earthquakes measuring from 2 to 5.2 points were registered in Russia's Far Eastern Kamchatka Territory overnight to Thursday, a spokesman for the Kamchatka branch of the Russian Academy of Sciences' Geophysical Service told TASS.
"All the quakes were registered during the night in the Avachinsky Bay near Petropavlovsk-Kamchatsky. The strongest earth tremor was registered at 00:17 local time (15:17 Moscow time). Its epicenter was located 85 kilometers away from Petropavlovsk-Kamchatsky at a depth of 50 kilometers," the spokesman said, adding that this tremor was felt as a magnitude 3 quake in the city.
Two more strong quakes of a magnitude 4.7 and 4.5 were registered at about 05:00 a.m. local time (20:00 Moscow time). These earth tremors were also felt in Petropavlovsk-Kamchatsky.
According to the Russian Emergencies Ministry, no casualties or damages were reported. No tsunami warning was issued.