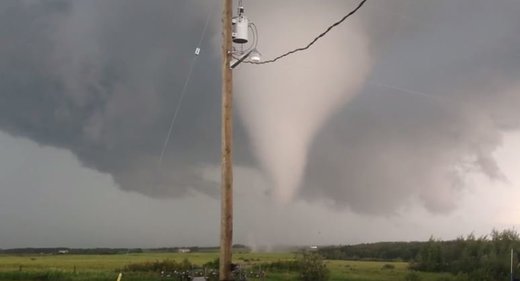 Thirteenth tornado of season touches down in Waywayseecappo, flipping bus and putting Manitoba over the top
Manitoba may have unofficially set a rather dubious weather record.
With three more tornadoes touching down on Monday, this year's total has reached a total of 13 to date
, Environment Canada meteorologist Terri Lang confirmed Tuesday.
The highest previous total Lang could find was nine back in 2013.
While early reports said there were actually four tornadoes in Manitoba on Monday, the fourth could not be confirmed, Lang said.
"Sometimes, what people think are tornadoes are land spouts," she said. "And there were a lot of land spouts, not tornadoes, last year."
There were only eight confirmed tornadoes in Manitoba last year, Lang said.
So, why the sudden increase this year?
"It's been a very active year, with more moisture than there was last year," Lang said. "And with that moisture, there is more positive feedback. When the moisture in the ground evaporates, it causes more storms. Crops are also growing better here, which is also giving off more moisture this year than last year when it was very dry.
"Plus the overall patterns from the Gulf of Mexico this year, it's just been too much."
So, whether Manitoba gets even more tornadoes this year will depend on that moisture.
Monday's extreme weather was caused by a strong cold front that swept across southern Saskatchewan and southern Manitoba. That triggered a number of severe thunderstorms and the three tornadoes.
Golf-ball-sized hail was reported between Binscarth and Russell, where one of the tornadoes touched down. Quarter-sized hail was reported in Rossburn and tennis-ball sized hail in Elphinstone where another one of the tornadoes touched down.
Quarter-sized hail was reported in Otter and Sandy Lakes, toonie-sized hail in Minnedosa and ping pong ball-sized hail in Erickson.
But don't blame climate change for the increasingly turbulent weather.
"It's impossible to link it to that," Lang said.
A ridge of high pressure over southern Manitoba has caused the weather to calm down since Monday.
Waywayseecappo in shock after minutes-long tornado touchdown
With his family hiding safely in the basement, Eric Mentuck videotaped a tornado touching down on his Waywayseecappo First Nation neighbour's property from his deck on Monday.
"We were all scared -- my three daughters and my wife were scared," Mentuck said from Waywayseecappo on Tuesday. "They were in the basement with my son. But my house wasn't too bad. It was like an average windy day.
"But I could see it over Jason McKee's house, which is just a kilometre away from mine. And you could see the wind carrying debris from the tornado."
Video taken from McKee's surveillance camera showed a bus being tipped over in the wind and the roof of his garage getting peeled off during the tornado.
"Everyone's still in shock," Mentuck said after surveying the community. "It's amazing that no one died and no one got hurt."
Seven homes were damaged, one demolished, and 14 people were evacuated to nearby Russell, with others displaced elsewhere. McKee was already repairing his place Tuesday, Mentuck said.
"The tornado was followed by hail and rain, and it was so dark that you couldn't see in front of you," Mentuck said. "It makes a guy feel pretty small."
The Canadian Red Cross sent four volunteers to Russell to arrange for hotel rooms, food, hygiene kits and even teddy bears for the Waywayseecappo families that had been forced to move there -- funded through an agreement with the federal government, said Red Cross spokesperson Jason Small.
Waywayseecappo Chief Murray Clearsky could not be reached for comment, but Environment Canada sent meteorologist Natalie Hasell to assess the damage done there.
The tornado, which lasted "for several minutes," was one of three that touched down in Manitoba on Monday, Environment Canada meteorologist Terri Lang confirmed. The other two were between Binscarth and Russell, and Elphinstone.
There were no reports of injuries as the result of any of them.
Environment and Climate Change Canada issued a number of tornado warnings across southern Manitoba, late Monday afternoon and evening.
"When we put out a tornado warning, we mean business," Lang said.
Environment and Climate Change Canada meteorologists are seeking pictures and videos of Monday's severe weather events to help them determine the type of tornadoes and the damage they caused.