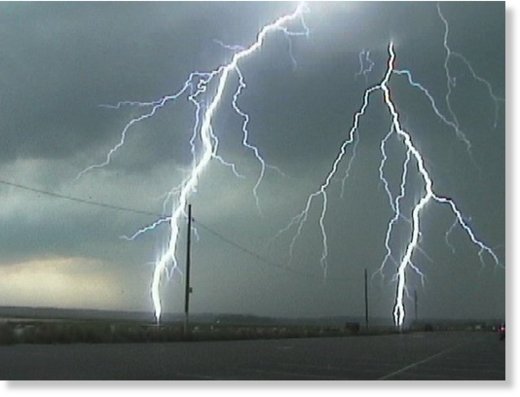 Thunderstorms are a part of life in Alabama in the summertime.
While they can provide a temporary cooldown from sweltering temperatures — they can also bring a danger that is often overlooked: lightning.
There have been 22 deaths from lightning in 2016, the most recent on Friday on Florida's Okaloosa Island.
In comparison, there have been 12 deaths this year from tornadoes.
Florida leads the nation with a total of six deaths from lightning. Next is Louisiana with four. Alabama, Mississippi and North Carolina have two each. Arizona, Utah, Colorado, Missouri, Tennessee and Virginia have one apiece.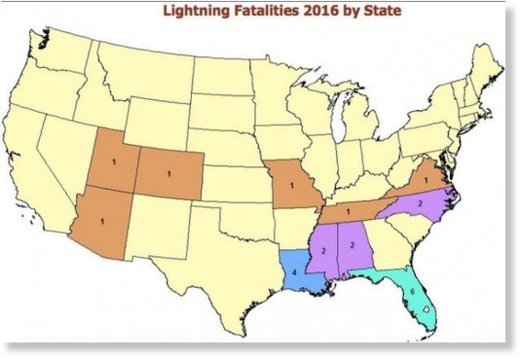 This year's lightning victims have ranged in age from 5 years old to 72. Only four were females.
Both of Alabama's lightning deaths occurred in July, one of the worst months for lightning in the state — and the nation as well.
Of the 22 deaths this year, 12 of them happened in July.
Does lightning get its due as a deadly threat?
It doesn't, according to John De Block, the warning coordination meteorologist at the National Weather Service in Birmingham.
"I think it has to do with the time of the year," he said. "It's hot outside, people are looking forward to that cool thunderstorm to come in. They know that chances are it's not going to be severe so they're not really worried about it. So they kind of forget that lightning can be deadly as well."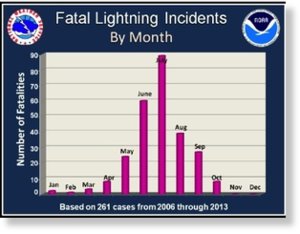 Lightning can sneak up on you, often striking before the first drop of rain has fallen.
"The problem is that people think that the lightning comes with the rain
, but the lightning can be as many as 10 miles away from the rain when it hits," DeBlock said.
So what's the No. 1 rule to stay safe?
"It's very simple: When you hear thunder get indoors," De Block said. "Nature provides all the notice you need — unless that storm develops on top of you."
Also, it's important to note that storms can pop up quickly, especially in the summertime, so keep an eye on the sky and the forecast.
"If I start to see big, dark clouds developing and it hasn't thundered yet, well, there's always got to be the first lightning strike somewhere," De Block said. "So, you have to be aware of the forecast and be aware of what's happening in the skies above you."
Six of 2016's lightning victims were taking shelter under a tree when they were killed. Several victims were on the beach. Anywhere out in the open when a storm threatens poses a hazard.
"The worst place to be is out on the lake or the beach," De Block said. "You become a much more attractive location for that lightning to strike when you are the tallest object around."
When "lightning hits a tree, it travels down the trunk of the tree and into the ground surrounding the tree. And that charge can be strong enough, just in the ground surrounding the tree, to injure or perhaps kill," De Block said.
"That's really what gets you. And the majority of lightning strike fatalities are not from direct hits — they're from indirect hits. Very rare is it that the person gets zapped on the top of the head."
You really have to respect lightning and get out of its way, De Block said.
"Don't let your guard down. It's summer, it's hot, and thunderstorms happen," he said. "You might not have the wind or the hail that comes along with a severe thunderstorm, but lightning can kill as well."