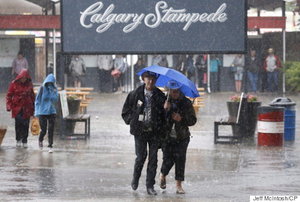 In a country known for episodes of extreme weather, even Environment Canada's senior climatologist is shaking his head over the flurry of bad weather hitting the Prairies this year — most notably in Alberta.
David Phillips, who has been on the job for five decades, said the 2016 weather season isn't likely to be one that especially Albertans and others on the Prairie will look back on fondly.
He said
the number of tornadoes, winds, hail, thunderstorms and humidity are up in all three Prairie provinces
but nobody has had it worse than those living in northern and southern Alberta.
"You saw the terrible thing in Fort McMurray. My God, I'm sure they were wondering would the locusts be next. I mean, it's so Biblical,'' said Phillips.
"They had the fires and the drought and now the floods. They clearly had more than a month's worth of rain in Fort McMurray in two hours, and it's almost as if they couldn't get rain when they prayed for it back in April and May.''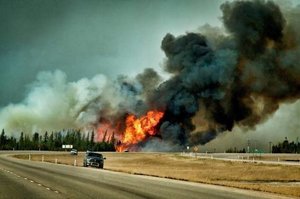 Residents of the oilsands capital began returning in June after a wildfire spread into the city on May 3 and forced more than 80,000 people to leave for nearly a month.
It destroyed roughly 2,400 homes and other buildings — about one-tenth of the city.
Over the weekend the municipality once again activated its emergency operations centre to deal with flooding after receiving around 85 millimetres (3.5 inches) in just two hours.
July was particularly onerous, especially in Calgary where 206 millimetres (8 inches) of rain fell.
"It's the wettest July in 89 years — it was back in 1927 but the other thing that really stood out for me was the number of thunderstorms and number of wet days,''
he said.
"Calgary had 19 thunderstorms and they normally would see eight of those, and they had 43 hours with thunderstorms. It was a rock and rolling kind of month.''
Phillips said there were 18 thunderstorms in Edmonton but the overall precipitation of 103 millimetres was only slightly above average.
The summer weather has nothing to do with the mild weather brought about by El Nino, said Phillips.
"There isn't any connection to El Nino. I know it's the Canadian way — we think we're somehow this puritan, theological meteorology that we somehow are going to pay for any good weather that we have but we don't,'' Phillips said.
Phillips said the Prairies were locked into a weather system that stood still and just wouldn't go away.
"You had an upper low that just stood around and wouldn't leave like an unwanted house guest.''
What was also unusual for Prairie folk, said Phillips, was the high humidity. He said to someone used to dry air it must have felt as humid as Toronto.