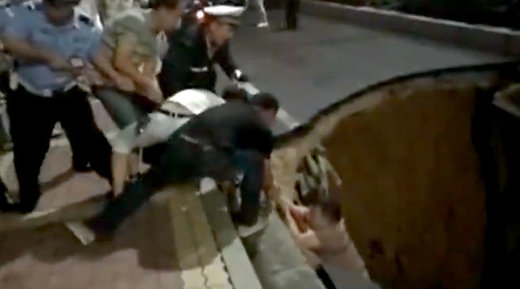 Two people were rescued from a giant sinkhole that opened up in the Chinese city of Zhengzhou, while two more remain missing.
What started out as a crack in the road following heavy rain on Monday night, opened up into a small hole shortly after, before swallowing up a grass verge beside it and then pulling in some of the surrounding pavements.
A number of pedestrians stood beside the hole to take photos of it as it expanded. Four were suddenly dragged in, along with three vehicles, according to
local media
.
A 36-year-old man and 21-year-old woman were pulled from the now 600-square-meter sinkhole. Video footage of the rescue shows a group of men scrambling to help the man out of the dark depths of the hole using a rope.
Emergency services have been unable to find the two remaining pedestrians, one of whom is understood to be a child, but rescue efforts are continuing Tuesday.
There are a number of live electrical wires and exposed sewerage pipes in the hole and a nearby school has also been evacuated for safety reasons.
It's thought that the poor weather conditions, as well as a large underground water pipe bursting, caused the hole to form.