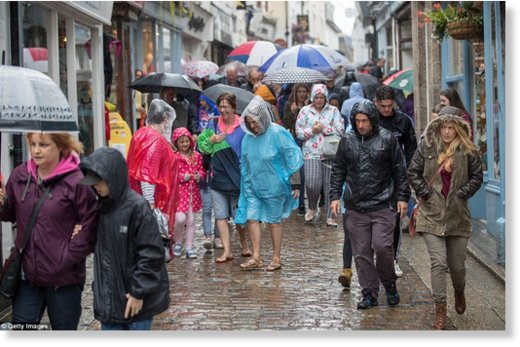 Britain could face more rain in some areas in the next 24 hours than fell during the whole of July, forecasters have warned.
August will get off to a chilly, bright start in the North with rain over parts of the South feeding into a changeable seven days, the Met Office said.
Today will be mostly cloudy in the South with rain moving in from the West, which will turn heavy and persistent this afternoon.
It will be predominantly cloudy tomorrow across the UK with outbreaks of rain extending north and some sunny intervals possible in the South.
Southern areas will be mostly dry on Wednesday with sunny spells and the odd shower, although there will be widespread showers in the North.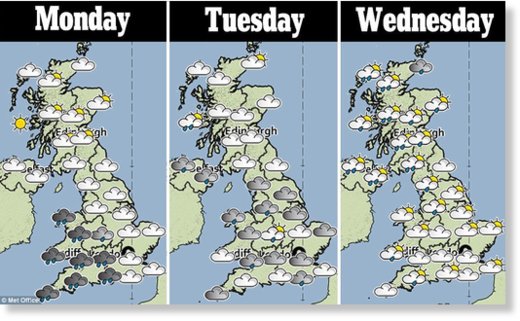 Thursday will be bring fine weather in the South and East with sunny spells, but it will be showery elsewhere with some thundery downpours expected.
The mixed forecast comes after a water spout was spotted at Thorpeness descending from dark clouds looming over the Suffolk coastline.
A Met Office forecaster said: 'July was obviously very, very dry, across parts of south-west Britain in particular.
'So there is a good chance we could see more rain across parts of the south west in the next 24 hours on Monday than we've seen in the entire month.
'It will be a real topsy-turvy week, no two days quite the same. But in the next five to seven days we will all see some rain at times.
'(It will be) useful rain for those who have got parched gardens; obviously not great for those under canvas or trying to enjoy the beach.'
While sun-lovers hoping for a lengthy heatwave in the next fortnight may be disappointed, the month should avoid being a washout.
Moving into the second week of August, the further North West parts of the UK the greater chance of seeing rain and stronger winds.
And the South East will be generally a bit drier with a greater chance of seeing more prolonged periods of sunshine and high temperatures.
People can expect temperatures of low 20Cs in the South, and high teens in the North.
The Met Office described the weather as 'not a washout by any means, but again not exactly blazing summer either'.
The best chance for a settled, warm period will be early on in the second half of August, particularly in the South, forecasters said.
But the Met Office warned there was 'certainly no strong signal for any prolonged period of hot weather' at the moment.