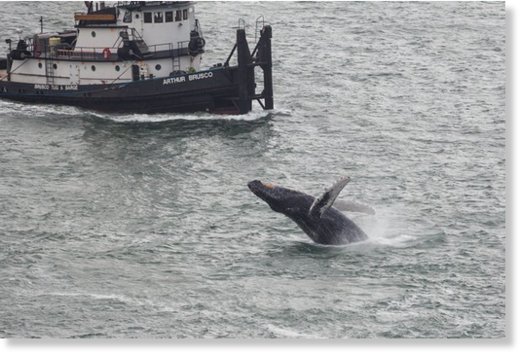 The waters off San Francisco must be echoing with a glorious chorale of weee-oooos and
uuuuurrrghhs
.
Spotters have reported a record number of gray, humpback, and massive blue whales in the region,
making whale-watching as easy as strolling onto the Golden Gate Bridge.
Spotted some gray whales while I was on the GG Bridge! First time I brought my camera too, super lucky. pic.twitter.com/ePIMn5DsOy

— Chris Gallello (@cgallello) May 11, 2016
The blowholed behemoths normally show up off California later in the summer or fall,
but this year they've been cruising around since May. Their premature arrival is either good or bad news, depending on which theory you believe.
Curran White at the
Golden Gate National Parks Conservancy
writes the draw might be plentiful food from a developing La Niña:
Dr. Sarah Allen, Ocean and Coastal Resources Program Lead for the Pacific West Region of the National Park Service, believes this gathering of whales is due to an abundance of prey (primarily anchovies). One theory suggests that nutrient-rich cold waters, stirred by La Nina conditions, are beckoning great numbers of fish.

"They [whales] wouldn't be coming here unless there was a critical mass [of food]," Dr. Allen explains.
Then again,
it might be because the whales were forced out of their southern homes:
"One of the reasons we have seen so many whales this early in the year, and so close to the coast, might be because of unfavorable conditions in their breeding grounds [off the coast of Central America and Mexico], which may have forced the animals to move north sooner than other years," Dr. [Jaime] Jahncke says.
Locals wanting to get in on the action should head to the Golden Gate Bridge or coastal sites like Point Reyes, Pacifica Beach, Mori Point, and Lands End. And as always, if you stumble upon an unfortunate dead-whale beaching, report it to authorities and don't desecrate it with your idiotic
biker-gang graffiti
.
Life event: seeing a Humpback Whale breach in front of Golden Gate Bridge! https://t.co/vDRNwtP3nv @sfwhaletours pic.twitter.com/D6NxKKHogA

— Josh Jacobson (@jmania) June 12, 2016