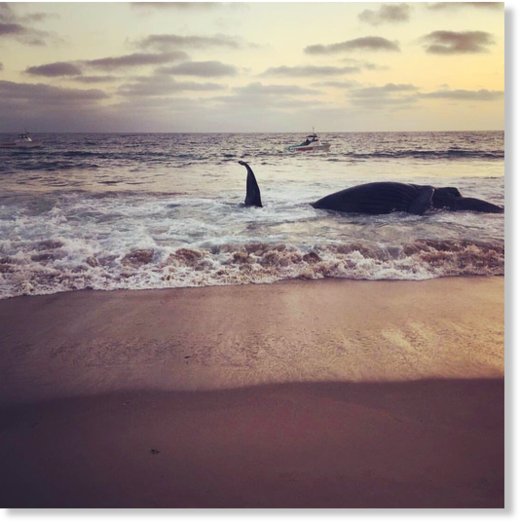 Lifeguards were deciding what to do Friday about a dead whale that washed ashore on Dockweiler State Beach near Playa Del Rey the night before.
A whale that washed ashore at Dockweiler State Beach is seen in this photo posted to the Los Angeles County Fire Department Lifeguard Division Twitter page.
The 30- to 40-foot-long whale, possibly a humpback, was spotted by lifeguards about 8 p.m. Thursday, according to a tweet by the Los Angeles County Fire Department
Lifeguard Division.
Efforts to tow the carcass back to the water Thursday night were unsuccessful so the whale remained on the beach overnight.
Officials were hoping to try again to get the whale removed from the shoreline Friday, ahead of the large crowds expected to arrive for the holiday weekend.
Earlier this week, a
whale became entangled
in some fishing line in the waters off of Dana Point.
There was no indication the whale at Dockweiler Beach was the same whale.