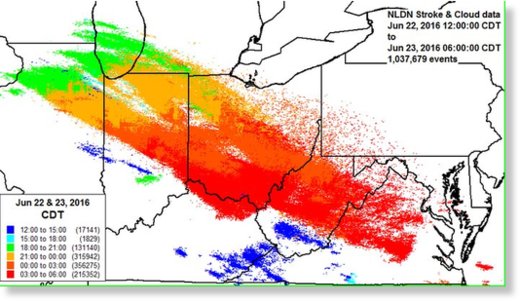 Wednesday night's storm, which stretched more than 700 miles from eastern Iowa to northern Virginia,
produced more than 1 million lightning events over 18 hours -- more than 236,000 of them occurring in Illinois and over Lake Michigan, and is blamed for a house fire in Evanston.
Since 1989, every stroke and flash of lightning that happens in the continental U.S. has been recorded in real time by the Vaisala-owned
National Lightning Detection Network,
based in Tucson, Ariz., which monitors lightning activity 24 hours a day, 365 days a year. This includes the time, location and polarity of cloud-to-ground lightning and cloud pulses, which can stay in a cloud or be connected to cloud-to-ground lightning.
Vaisala estimates the Chicago area had
12-20 flashes of lightning
per square mile each year from 2005-14. During the same time period, Illinois had the
eighth-highest
cloud-to-ground lightning flash density among U.S. states at 14.2 per square mile. Florida had the most -- 21 per square mile.
Ron Holle
, a lightning expert and Vaisala meteorologist, said
Wednesday night's storm was a derecho. That's a widespread, thunderstorm-induced event that can cover up to thousands of miles, have windspeeds of up to 100 mph and last for 24 hours or longer
. Derecho is the Spanish word for "straight ahead," which refers to its wind direction (as opposed to rotary winds). It was first used as a weather term in 1878 by Iowa meteorologist
Gustavus Detlef Hinrichs
, and appeared in a
March 30, 1890, Chicago Tribune article
on tornado prediction.
It's not an uncommon weather phenomenon here, with a
double derecho
reported in 2014, another that covered a
1,400-mile area in 2011,
and one that forced the evacuation of Wrigley Field in 2008. The worst derecho on record in the Chicago area caused
$7 million in damage
in 1965.
"Derechos occur in summer in various lengths, and often start in Iowa or Illinois in the afternoon, then continue through the night while moving southeast," Holle said in an email.
In addition to lightning, this storm was responsible for rain totals up to 3 inches in some parts of northern Illinois and at least eight tornadoes that swept through portions of Lee, LaSalle and DeKalb counties
and caused a two-hour delay of a Copa America soccer match at Soldier Field, which
forced more than 50,000 fans
to leave their seats to seek shelter.
Sources: AISALA's variable rain totals to northern Illinois and National Lightning Detection Network, National Weather Service, WGN-TV chief meteorologist Tom Skilling, Tribune reporting