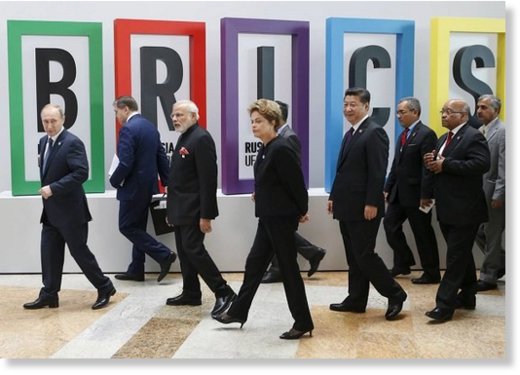 Brazil's suspended President Dilma Rousseff has said those betting on the BRICS to disintegrate are making an "unforgivable mistake".
"The creation of BRICS was an event of unprecedented significance in world affairs. The emergence of BRICS and the G20 group was a peak from the standpoint of multilateral processes and of building a multipolar world," Rousseff told Russian state daily
Rossiiskaya Gazeta
.
The BRICS nations account for about a quarter of global economic output. China and India are among the world's fastest growing large economies.
"I should say that the creation of BRICS really scared some countries, and we know that. Thinking that this quintet will fall apart or disappear would be tantamount to making a strategic and unforgivable geopolitical mistake," she added.
The Brazilian Senate voted to impeach President Dilma Rousseff in May.
However, a wave of scandals buffeting Brazil's interim government is weakening the resolve of some senators to oust suspended Rousseff, offering the leftist leader hope of surviving an impeachment trial in the upper house.
Leaked recordings, of politicians and key allies of interim President Michel Temer, discussing Brazil's sprawling kickback scandal has dented the credibility of the new administration.
Temer's Transparency Minister Fabiano Silveira and Planning Minister Romero Juca were caught conspiring against the Petrobras corruption probe in leaked recordings which were broadcast by national media. Both Ministers stepped down subsequently.
Brazilian daily
O Estado de S Paulo
also reported that Temer's seven-year-old son, Michelzinho, is the registered owner of properties worth $550,000. The report also said Temer's total assets nearly doubled between 2006 and 2014.
Meanwhile, Rousseff said on Thursday that each of the BRICS states are currently experiencing economic problems stemming from the West-induced crisis.
A new
World Bank report
,
Global Economic Prospects: Divergences and Risks
, says emerging economies need to look to policy reform in order to keep pace with growing global challenges.
"But we will overcome that crisis to get even stronger than we were in the past. Our alliance rests upon the idea of strategic nature of these relations. It is an inter-continental union," Rousseff said.
The BRICS Bank announced its first set of investments in April this year.
The $100 billion NDB
will compete with institutions where the US has considerably more influence—organizations such as the World Bank and the International Monetary Fund.
According to surveys by Brazilian media, up to a dozen of the 55 senators who voted last month to put Rousseff on trial are now undecided.
If just a couple of those change sides, the Temer camp would lose the 54 votes it needs - two-thirds of the 81-seat Senate - to convict Rousseff. She would then be able to serve out her term until 2018.
Analyst Sam Cowie says
many view Temer's government as illegitimate
.
"What legitimacy does Temer's unelected government have to impose cuts that will seriously affect tens of millions of mainly poor and lower income Brazilians?" Cowie
asks
.