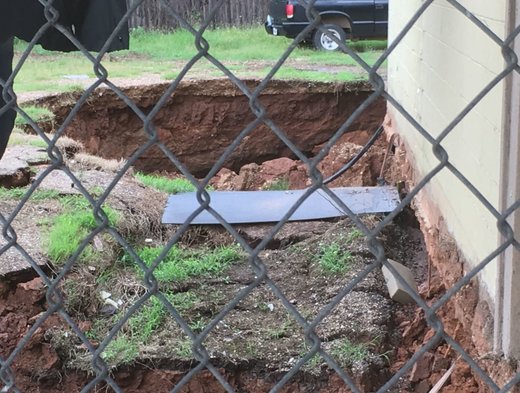 Shreveport city officials and especially concerned customers who shop right next door.
KSLA news 12 has received several phone calls about the large hole on Grimmett Drive in north Shreveport.
It's a growing hole that until recently few even noticed. Now the leaning columns and cracking cement have made the problem a dead giveaway.
"Right now, I came here and I asked the owner is it going to be safe to continue to come here, and drive across this parking lot, and get gas and shop here," Clyde Simpson said. He believes the sinkhole started small but has grown so quickly he's afraid of what could happen next.
"I come here often, and now I'm thinking the store is going to start to collapse, it's going to make a run for it."
KSLA News 12 was there as city drainage and sewage workers came out to take a firsthand look at the hole at a vacant building next to a convenience store on Grimmett Drive. Workers quickly put up caution tape warning others.
"It could go on out to the street and endanger the public, you just never know," said Simpson.
City workers were so amazed at the sight of the growing sinkhole that they called their director, Mike Wood. He came out to take pictures and see what the fuss was all about.
"I tell my wife, don't stop here. I tell her to go on because if anything happens, I'd rather me be in harm's way than her," Simpson said.
Water and Sewage director Barbara Featherston told KSLA News 12 the sinkhole formed because of a faulty storm drain pipe. Even though the drain pipe runs underground through private property, she said, it's still the Louisiana highway department's problem to fix.
Simpson said they better hurry.
"It's getting bigger, it's getting deeper, and the more it rains, the more it grows."
Watch the video
here
.