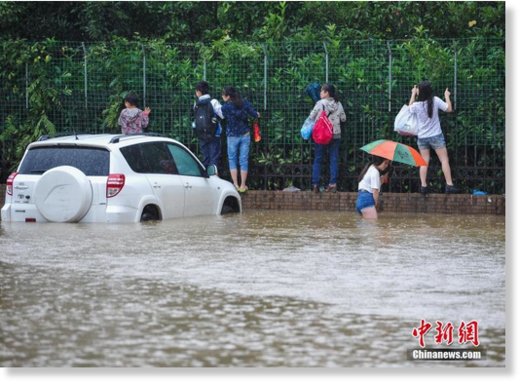 Torrential rain battered central China's Hubei Province on Wednesday, trapping people and inundating cities,
the provincial flood control and drought relief headquarters said.
As of Wednesday evening, more than 100 trapped people had been rescued and more than 1,000 evacuated to safer places, officials with the headquarters said.
Red alerts for rain were issued on Wednesday in several cities across the province including the capital Wuhan.


Many parts of the city were flooded and precipitation in downtown Wuhan reached 115 millimeters
. Public transportation had also been disrupted, the city government said.
On Wednesday afternoon, 79 people trapped in Jiangjiamiao village in Yichang City, including 39 students, were rescued. More than 40 people who had been trapped in the middle of a road in Wuhan were also rescued.
More than 40,000 mu (2,667 hectares) of farmland were flooded. Eighty-two houses collapsed.
The flood caused direct economic losses of 23.4 million yuan (3.55 million U.S. dollars) in the province.
In Hangzhou City in east China, continuous rainstorms had caused the cancellation of more than 100 flights, and more than 6,000 people were trapped at the airport as of 8:30 p.m. Wednesday.