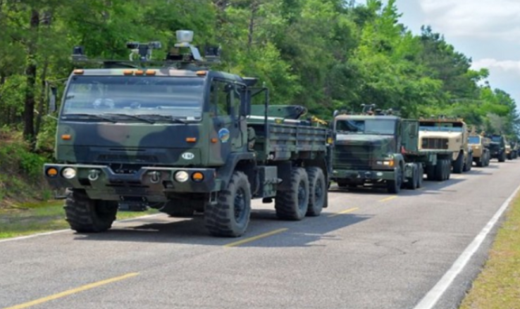 The U.S. Army is set to send a convoy of vehicles along a stretch of Interstate 69 in Michigan as part of an initial testing of driverless military vehicle equipment on public roadways.
The vehicles will be testing a piece of equipment that is critical to the development of driverless technology.
Representatives from the U.S. Army Tank Automotive Research, Development and Engineering Center and the Michigan Department of Transportation held a public information session on Monday in eastern Michigan to talk about the testing.
From
Stars and Stripes
:
Someone will be behind the wheel of each vehicle, which is equipped with features from the driverless vehicle systems, including adaptive cruise control and lane keep assist, The Flint Journal reported.

Six radio transmitters will be set up along Interstate 69 to allow for groups of five vehicles to broadcast speed, distance, and traffic issues as directed over the frequency, said Alex Kade, chief system architect in ground vehicle robotics for the Tank Automotive Research, Development and Engineering Center.

If the testing is successful, the technology could save the lives of soldiers serving overseas, according to officials.
According to Alex Kade the driverless technology could help cut down on accidents and dangerous combat situations for soldiers, especially in areas that may contain explosives.
This is not the first time the U.S. Army has showcased its driverless technology.
In May 2014, the Army
showcased
a convoy of seven different tactical vehicles that were driven completely unmanned at speeds exceeding 40 mph at the Department of Energy's Savannah River Site in South Carolina.