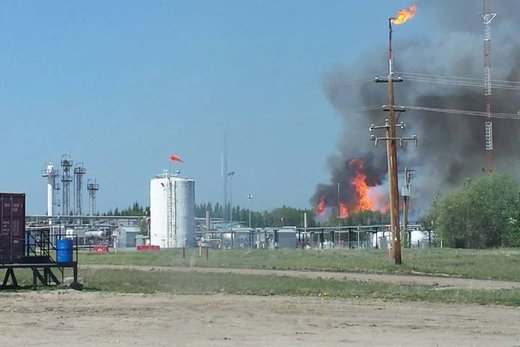 A rapidly growing wildfire has sparked another mandatory evacuation order in Alberta, this time in the province's northwest.
A state of local emergency was issued Sunday evening in the Municipal District of Greenview because of a blaze between Fox Creek and the hamlet of Little Smoky, about 260 km northwest of Edmonton.
Provincial officials say the fire is near an energy industry plant and is burning on either side of Highway 43.
The evacuation order does not apply to the Town of Fox Creek or the Hamlet of Little Smoky. No road closures are in effect at this time.
Evacuees have been asked to report to a reception centre at the Paradise Inn in Valleyview, east of Grande Prairie. Residents are asked to check in even if they don't want to stay at the hotel.
Small pets are welcome at the hotel. Large animals and outside pets will be sheltered at the Valleyview Agricultural Grounds.
The temperature is expected to rise through the week, with rain not expected until Wednesday. The muncipality had previously instituted a fire ban, applying to any outdoor fires and use of off-road vehicles on public land due to the extremely dry conditions.
The emergency comes about two weeks after a wildfire ripped into Fort McMurray
, destroyed about 2,400 structures and forced more than 80,000 people from the city.
Source: The Canadian Press