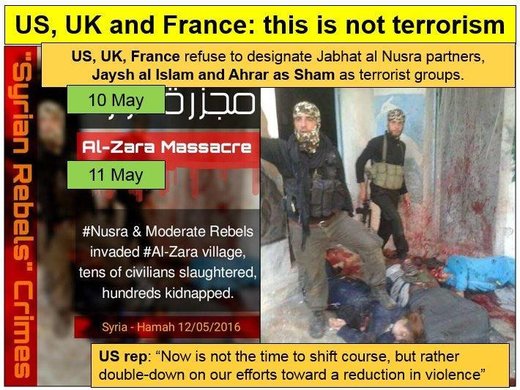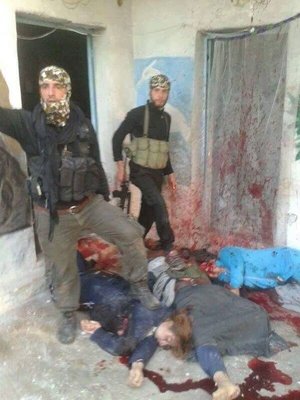 The terrorists of al-Nusra Front and
Ahrar al-Sham
launched heavy attacks against the Syrian forces in the Southern parts of Hama province, occupied the town of Zara and
killed most of its residents
.
Facing the surprise offensive, the Syrian troops were forced to withdraw from Zara towards Hor Benafseh town.
The sources affiliated to the terrorists confirmed occupation of Zara, and local sources said that
a number of families, including women and children, residing in the small town were massacred by the militants
and others were held captive.
Zara hosts a power plant which supplies electricity to the adjacent provinces.
Ahrar al-Sham terrorist group had two months ago attacked the town with missiles and destroyed a part of the power plant which led to power cuts in the nearby provinces.
The developments came after the Syrian fighter jets and choppers continued bombing bases and gatherings of al-Nusra Front in the Northern part of Hama province on Wednesday, pinning down the militants behind their positions with the lowest military movements possible.
Al-Nusra Front's concentration centers and bases in Morek, al-Lataminah and al-Madhiq Fort came under the heavy fire of the Syrian warplanes and military helicopters.
The terrorist group suffered a heavy death toll and its military hardware and bases' infrastructures sustained major damage in the Syrian airstrikes.
The Syrian army troops, for their part, opened fire at terrorist centers near al-Qantara in the Western part of al-Samiyeh.