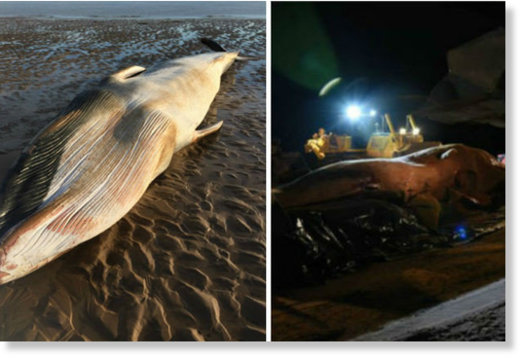 The body of a five metre long whale has washed up on a beach in Mablethorpe.
The grim discovery comes just four months after five sperm whales beached and died on the east coast, including three in Lincolnshire near Skegness.
Scientists are still trying to work out what caused the members of the sperm whale pod to beach. Among the theories put forward so far, are that the animals were chasing squid in shallow water when they got into difficulty, they were confused by noise pollution or were ill.
The mass beaching of the whales was huge story that travelled around the world and brought Skegness global attention. the events were linked to other whale beachings in Europe.
The creature this time is believed to be a Minke whale and it was discovered on the sand just off the Sea View car park.
A spokesman for East Lindsey District Council said the latest whale to be discovered could have been dead for some time.
"It's at the north end of the resort and is believed to be a Minke whale. It's five metres in length and it weighs about one to two tonnes.
"As with the sperm whales we advise people to look but not touch.
"We want it to be taken away as quickly as possible with respect. - we know what we are doing we have done it before."
Officials are now covering the body - which is eight times lighter than the sperm whale - with sand.
The district council are currently in the process of getting the permits to remove it from the beach.
A spokesperson in the operations room at the Humber coastguard said: "The incident was reported at 8.30am this morning by a member of the public.
"We sent a team down there and as I am aware as it stands the local council is going to dispose of it tomorrow. We are unsure what kind of whale it is at the moment."