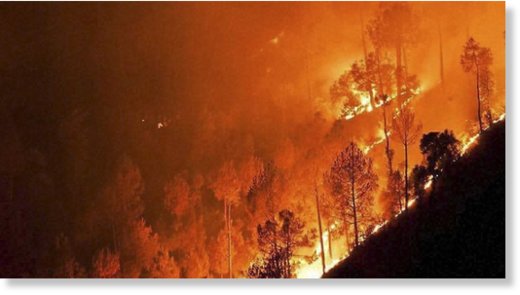 Massive wildfires that have killed at least seven people in recent weeks were burning through pine forests in the mountains of northern India on Monday, including parts of two tiger reserves.
With dense black smoke billowing in the skies for kilometers (miles),
authorities were urging villagers to be on alert and tourists to avoid traveling to the Himalayan foothills, popular during the summer for their cooler temperatures.
Dozens of fires were spreading unpredictably in the states of Uttarakhand and neighboring Himachal Pradesh, officials said.
"We are struggling to bring the situation under control," forest officer Bhanu Prasad Gupta said in the state of Uttarakhand.
After state firefighters were unable for months to put out the fires, the Indian government sent air force helicopters over the weekend to drop water on blazes covering nearly 23 square kilometers (8 square miles) of pine forests.
After areas were soaked from above, groups of villagers fanned out into the steaming jungle forests and used green-leafed branches to beat out the embers still glowing on the ground.
But the thick smoke and remote, mountainous terrain were making the job difficult for some 9,000 firefighters, army soldiers and forest guards deployed to battle the flames, Gupta said. Nearby villages were asked to stay on alert, but none has yet been asked to evacuate. Authorities set up 84 monitoring centers to receive reports of new fire outbreaks.
Hundreds of tourists have abandoned plans to visit the popular hill towns of Ranikhet, Almora and Pauri after smoke reduced visibility on steep mountainous roads. During the scorching summer, hill resorts in Uttarakhand are a favorite weekend getaway for people in New Delhi, 400 kilometers (250 miles) to the south.
While forest fires are not uncommon in the dense forests of the Himalayan foothills, there were more fires than usual this year and they were unusually intense, according to forest department official Ujjawal Kishan.
The fires began early in February, after a particularly dry winter and two years of poor monsoon rains, and raged out of control last week as summer temperatures soared.
In total, 13 districts of Uttarakhand have been affected, along with six districts in Himachal Pradesh.
The fires were worsening the already-high air pollution over northern India, while also destroying forest ecosystems and affecting nesting birds and other animals.
"This is the breeding season of many avian species," wildlife official Ramesh Unnwal said. "The fire has destroyed their eggs."
About 5 square kilometers (2 square miles) of protected forest land had been destroyed in the Corbett National Park and Rajaji National Park tiger reserves, but officials reported no evidence so far of any tiger deaths. The burned area is a small fraction of the parks' combined area of 1,340 square kilometers (520 square miles).
Officials said they are not sure what sparked the fires. Scientists say climate change brings warmer temperatures that dry up forests and exacerbate drought. The aftermath of the El Nino climate pattern has worsened drought conditions and could still weaken this year's monsoon, expected to begin in June.
In the first four months of this year, there have been more forest fires across India than in all of 2015 or 2014, according to Indian Environment Minister Prakash Javdekar. The government counted 20,667 wildfires up to April 21 this year in the Himalayan foothills and in central and eastern India, he told lawmakers. By comparison, there were 15,937 forest fires recorded in 2015, 19,054 in 2014, and 18,451 in 2013.
Meanwhile, authorities detained four men for questioning on suspicion they started some fires to clear land for real estate development.
Javdekar said, however, that even burned forest land would be left to regenerate and not be diverted to any other purpose.
"Not a single inch of forest land will be allowed to be encroached or diverted by anybody," Javdekar said.
Source: AP