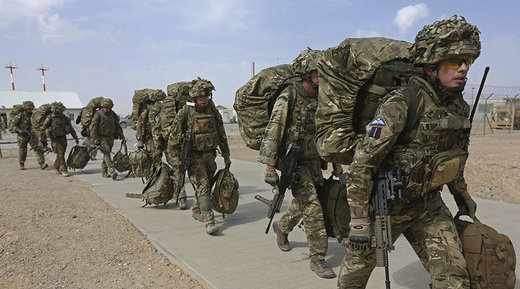 Despite the death of a US Navy SEAL on Tuesday while training Iraqi troops,
UK Defense Secretary Michael Fallon says hundreds more British troops could be sent to the war-torn country to advise local forces.
Fallon made the comments ahead of a meeting of ministers in Stuttgart on Wednesday, where he will discuss a further "package" of troops with his US counterpart Ash Carter. The troops are rumored to include engineers and advisers.
The news comes after a US Navy SEAL - a member of the force equivalent to the UK's Special Boat Service - was killed by enemy fire in Kurdish territory.
Fallon said Islamic State (IS, formerly ISIS/ISIL) is on the run,
with Iraqi forces "retaking territory, hitting its finances and striking its leadership."
"Now is the time to build on recent success and we are looking hard at what more we can offer as Iraqi combat operations intensify," he said.

Comment: So if Iraq is successfully "retaking territory" from Daesh, why do they need US and British troops on the ground? Might it be to keep an eye on Iraq to thwart it from getting closer to Iran or Russia?


Given the US soldier was reportedly killed between 3 and 5 miles inside friendly Kurdish territory, the potential UK deployment raises a number of questions, including the blurring of combat and advisory roles.
In a paper published Monday, University of Bradford professor Paul Rogers questioned the utility of British special forces, which are already thought to be active in Iraq and Syria.
He said despite being "much-hyped in populist non-fiction," accounts of their usefulness involved "gross exaggerations of actual achievements and little coverage of failed operations."
What may be driving their use "at the official level," Rogers argued, is the established government practice of denying their presence in warzones.
"This is a situation that has been maintained by successive governments, though it is particularly intensive at present," he said.
"It would be healthy for a democracy to be able to engage in open debate, and not just in parliament."
Labour Shadow Defence Secretary Emily Thornberry recently weighed in on the issue of democratic accountability.
She told Politics Home in late April that Tory Prime Minister David Cameron had effectively reneged on a promise made before he was elected to enshrine in law the need to consult parliament on military deployments.
Except for the aerial war over Syria, no vote has been held in parliament on the issue of troop deployments.
Of the blurring of combat roles and advisory roles, Thornberry said: "If the location of a training camp was identified at any point, it would automatically become a terrorist target, even if based in neighboring countries not involved in conflict."
Referring to the spate of deadly insider attacks on UK troops by supposedly loyal Afghan troops, she pointed out: "Even somewhere as well-protected and remotely-located as Camp Bastion was subject to attacks."