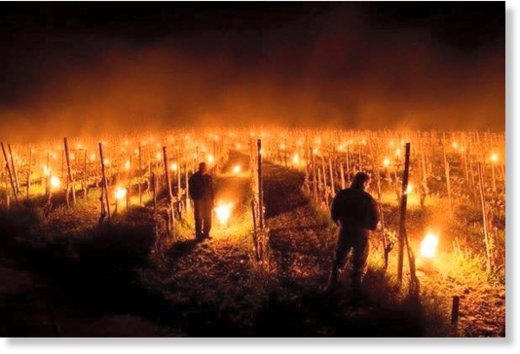 Temperatures dipped below freezing in many parts of Switzerland on Wednesday night,
with the intense cold causing havoc for winegrowers.
April weather is notoriously fickle in Switzerland but Wednesday night was one out of the box.
With temperatures ranging from - 3C to 0C in many parts of the country, winegrowers resorted to desperate measures to save their crops.
In eastern Switzerland's Bündner Herrschaft wine region where clear skies meant frosty conditions, vintners and volunteers braved the cold to lay out so-called frost candles.
The situation for grape growers is critical when the temperature falls below freezing, local winemaker Martin Donatsch told the tabloid newspaper
Blick.
Donatsch was one of those to lay out frost candles on Wednesday night - a tactic which can raise ground temperatures by up to 3C.
He will have to wait until Thursday afternoon, however, to see if the hard work paid off.
Winegrowers need up to 200 candles for a hectare of grapes, but Donatsch had to make do with just 30, which he used to protect the most vulnerable part of his harvest.
With the candles, which last ten hours, coming in at 18 Swiss francs a piece, it's not a cheap exercise.
But the alternative plan also has a hefty price tag. Regional authorities were looking at using helicopters to come in and fan warmer air above the ground with the machines' rotor blades.
The plan was dismissed when authorities realized the air above ground level wasn't warm enough to make a real difference.