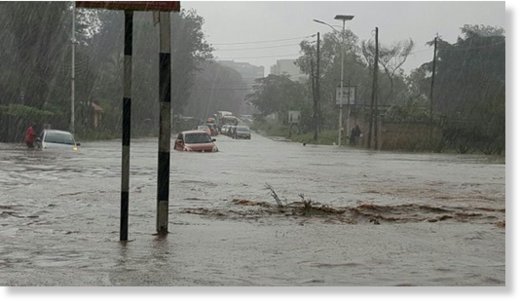 Residents of Nairobi, Kenya, were caught up in flash floods late on 28 April, 2016 after a storm brought heavy rainfall that lasted for nearly 3 hours.
It is not yet established how much damage has been caused, although images from social media showed flood water up to 1 metre deep in some streets, uprooted trees and damage to buildings and vehicles. The flooding also caused massive traffic jams on Nairobi's already busy roads.
Many locals were blaming the Governor of Nairobi City County, Dr. Evans Kidero for not maintaining the city's drainage system. Other pointed out that the flooding has been worsened by drainage channels blocked by garbage and that residents of Nairobi have a responsibility in keeping the channels clear.
Local media also blame illegal construction of buildings along the river, blocking the flow of water during times of heavy rain. Kenyan tech news site,
Kachwanya, says:
"A quick drive around the Southern parts of Nairobi starting from Nairobi West to most parts of Langata Road and Mombasa road reveal that there are hundreds of high rise buildings that have been constructed along the waterways that have played a huge role in blocking the natural course of water flow. To resolve the Nairobi Floods perennial problems, these buildings must be brought down - now".
Social Media
I will just leave this here #Nairobifloods pic.twitter.com/HTmCnpwJ3I

— W Mongare snr. (@WALTERMONGARE) April 29, 2016
#NairobiFloods Thika Road

Most floods are caused by man, not weather; deforestation,levee construction, erosion pic.twitter.com/0zZXKkSiyL

— Oscar Alochi (@papafavour) April 28, 2016
#NairobiFloods wrecking havoc. University way at standstill and parts of Thika Superhighway pic.twitter.com/R4bMX7GOjR

— #TwitTots (@paulkkimeli) April 28, 2016
#NairobiFloods
Traffic at standstill after an abrupt downpour this afternoon
County Govt; The ball is in your court pic.twitter.com/QCCx3LM0td

— #TwitTots (@paulkkimeli) April 28, 2016
The state of roads in Nairobi! We have a clueless county government!! Shame of the highest grandeur!#NairobiFloods pic.twitter.com/LyJLiwsTwm

— Femme actuelle (@zippoglisia) April 28, 2016