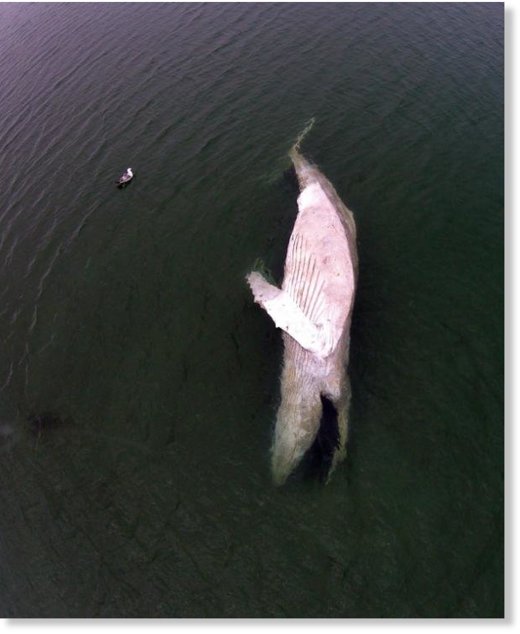 A dead whale has run aground in Gardiner's Bay, leaving East Hampton Town officials trying to figure out what to do about it.
A bayman reported what appeared to be the carcass of a small humpback whale in the water on Sunday morning, according to Ed Michels, the chief harbormaster. Coast Guard Station Montauk searched for it but did not locate the 20-foot whale until Sunday evening, Mr. Michels said. As of Monday afternoon, the carcass had become stuck on the bay bottom and was belly up in shallow water about 500 feet from the shore between the Devon Yacht Club in Amagansett and Promised Land, he said.
Mr. Michels said he did not know any specifics about the type of whale or how long it had been dead. Right now, his main concern is what to do about it, he said, adding that he has given Supervisor Larry Cantwell two options: Leave it alone and let Mother Nature run its course, or try to tow it to shore and dispose of it, a process that comes with a hefty price tag. "If we go touch it, it's going to cost thousands."
Mr. Michels has been in touch with the Riverhead Foundation for Marine Research and Preservation, and the organization has indicated to him that it would like to perform a necropsy, if it can get hold of the whale. However, the foundation would only take pieces of the carcass; the rest of the whale would have to be disposed of. Those costs, along with the cost of bringing in the equipment to move the whale, would add up fast, he said.
Mr. Michels is not sure the carcass is in good enough shape to be hauled to the shore. "Can it handle a tail rope? That's the only way to tow it," he said.
The supervisor was briefed on the situation Monday afternoon and has asked that the Riverhead Foundation go out on a Marine Patrol boat on Tuesday to evaluate the carcass's condition and if moving it is a viable option. "There are any number of considerations here," Mr. Cantwell said, among them where it could be brought to shore. Once some of those answers are available, then he will make a decision.
Even if the supervisor signs off on spending the money, the operation to move it would not begin before Tuesday at the earliest, and that's if the weather cooperates, he said. The situation could also change by then; the carcass could float away or float to shore, and at that time the town's hand would be forced.
"I think we have an obligation not to have a health hazard on the beach," Mr. Michels said.