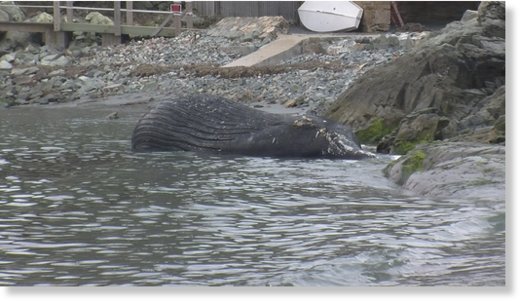 Nestled against the rocks at the end of Hazard's Beach in Newport is what appears to be a dead humpback whale.
Andi Flax is one of dozens who came out to see it. "A friend posted some pictures on Facebook and it's not something you see everyday so we thought we'd come pay our respects."
In fact, it's been drawing Rhode Islanders from all over the state, like Jillian Borgia.
"We saw it on Facebook...we drove from Bristol to come down and see the whale!"
Some locals say the whale's been here since Sunday, but the question now is what's going to happen to it next?
"My question is how did it get there and what do you do with it? Study it, burn it, leave it there?"
We haven't heard back from Mystic Aquarium, who's handling the whale carcass, but typically they are buried or pulled back out to sea.
Until then, spectators are taking advantage of the opportunity to see the sea creature up close and personal - if they can stand the smell.
"It's a lot bigger than I thought it was gonna be...but it doesn't smell as bad...it's my snapchat story!"