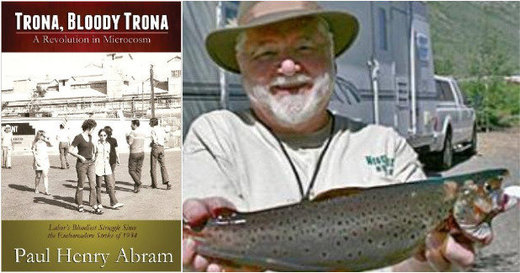 This week on the Truth Perspective, we interviewed Paul Henry Abram. On the night of Dag Hammarskjold's death in September, 1961, Paul was stationed with the NSA on the Greek island of Crete. Trained in Russian, he regularly monitored communications at the base. That night, he was monitoring radio signals relating to Hammarskjold's flight over the Congo into Northern Rhodesia. What he heard next was shocking: the plane had been shot down.
In 2014 Abram gave his testimony to the Hammarskjold Commission and the UN investigators tasked with following up on its evidence. On the show, he told us the full story, including how he came to work for the NSA, the kind of work he did, and what exactly he heard that fateful night: radio transmissions explicitly indicating that U.S. ground troops took down the plane. Paul eventually left the Air Force in 1963 and began to study law, which he practiced until his retirement in 2004. His memoir
Trona, Bloody Trona
covers his involvement in "labor's bloodiest struggle since the Embarcadero Strike of 1934".
Following our interview with Abram, SOTT editor Brent joined us for the first installment in a new feature: the Police State Roundup, with the latest stories of police brutality, murder and corruption. We ended the show with a discussion of the infamous 28 pages from the Joint Inquiry into 9/11 report, and what's going on beneath the surface regarding Saudi Arabia's alleged role in 9/11 and their recent rejection of the plan to freeze oil production.
Brought to you by the SOTT Radio Network and SOTT, your one-stop source for independent, unbiased, alternative news and commentary on world events, the Truth Perspective and Behind the Headlines broadcast every Sunday at 12 pm Eastern.
Running Time:
01:59:44
Download:
MP3