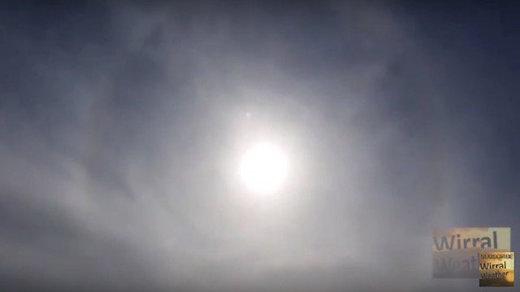 This beautiful Sun Halo was spotted over Wirral today by regular weather contributor Kirsty Bakstad.
The sun halo was spotted as the region enjoyed a second day of sunny weather as Merseyside recorded a top temperature of 15.1C.
Although yesterday was hotter on Merseyside, today was officially the hottest day of the year for the UK, as Porthmadog in Wales enjoyed temperatures of 20.3C.
However, the recent warm weather will be short lived, as Arctic air will bring back the chillier weather in time for the weekend.
Wrap up warm! A cold plunge for the UK this weekend and continuing into next week https://t.co/I6aoncQMhZ
— Met Office (@metoffice) April 21, 2016
Sun Halos are caused when light interacts with ice crystals suspended in the atmosphere.
The crystals bend direct sunlight, dispersing the light into colours and projecting it elsewhere into the sky, at a usual 22 degree angle a halo can be seen around the sun.
They often do mean that rain is going to fall within the next 24 hours as the cirrostratus clouds that cause them can signify an approaching frontal system.