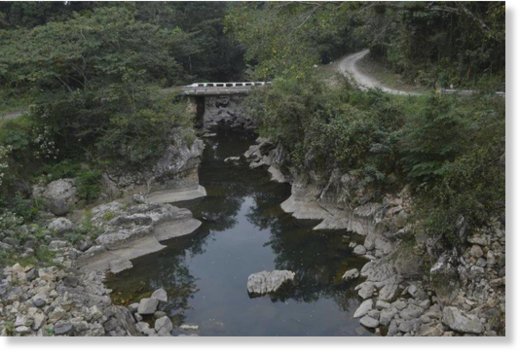 Two rivers in the mountains of the Mexican Gulf state of Veracruz have started to dry up following the appearance of sinkholes,
bringing to three the number of rivers in the region that have drained into the subsoil in less than two months, officials said.
Residents and officials said
the flow of the Tliapa and Tlacuapa rivers has been reduced by half, with the water streaming into sinkholes.
The rivers start in the mountain cities of Chocaman and Calcahualco, and flow into the Seco River in Cordoba, a city in central Veracruz.
Residents of the community of Tecolotla told officials that the first sinkhole formed in a place called Puente de Piedra, where water from one of the rivers began draining into the subsoil.
A second sinkhole appeared about one kilometer (0.62 miles) downriver, beyond where the two rivers join, residents said.
"The Tliapa and Tlacuapa rivers have now reduced their flow by up to 50 percent,"
Tomatlan emergency management chief Tobias Carrillo Morales said.