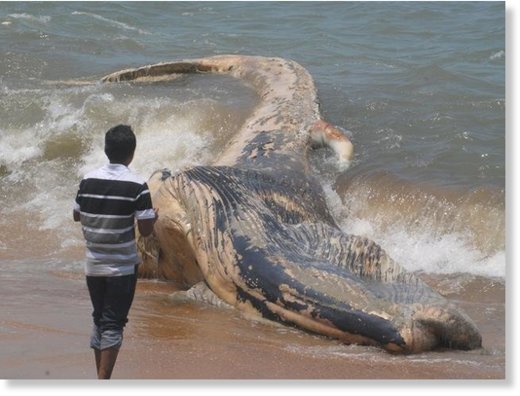 A dead whale was washed ashore at Someshwar, near here, on Wednesday. Local people saw it floating in the sea, off Someshwar beach, early in the morning. As there was high tide it was washed ashore at about 11.45 a.m. Students and teachers of College of Fisheries, Mangaluru, who rushed to the beach measured it to be 43 ft. in length.
"It must have died about two or three days ago," said Benakappa S., Professor and Head, Department of Fisheries Resources and Management, College of Fisheries, who was at the spot. S.R. Somashekar, a professor in the same department,
said that there was an appendix or extra growth on its back, that appeared to be unusual.
As its body texture was still rough, it could have died about two or three days ago. As it was in saline water the body has not completely decayed.