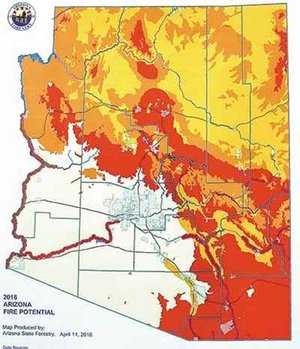 Arizona could face the most dangerous fire season in years
, according to Gov. Doug Ducey and the state's chief forester.
And it's already starting.
"Last year, we burned less than 500 acres" by this time,
said Jeff Whitney.
"So far this year we've burned over 21,000 acres."
And it's not looking promising.
"Arizona faces a potentially significant wildfire season,"
the governor said after he had been briefed by Whitney and his staff.
It starts with the fact that there have not been major fires in the last two years. Add to that above-average rainfall and the subsequent growth of vegetation - which is now drying out.
Pinion Pine Fire Chief Joe Jackson said the Hualapai Mountains have seen significant moisture this year.
The upside is, the ground remains damp.
The downside is, the grasses that have grown thanks to rain and snowfall will eventually dry out, said Jackson.
The moisture has not been substantial enough to add more fuels than usual, said Jackson.
"We always have concerns with fuels," said Jackson. "The grass is growing from the rains and that will help carry fire."
The last big fire to erupt in the Hualapai Mountains was the Dean Peak Fire in the summer of 2013. Thousands of acres burned and the Pinion Pine subdivision and other residential areas were threatened.
Jackson said his firefighters constantly train in wildland firefighting and just recently helped put down the Topock Fire that burned more than 2,200 acres in the Lake Havasu National Wildlife Refuge. That fire jumped the Colorado River and burned acreage in San Bernardino County. Pinion Pine crews also helped battle a blaze near Parker in La Paz County.
"We've done a lot of readiness training," said Jackson.
The high number of tourists in the state in the middle of the fire season "also equals more opportunity for wildland fire," Ducey said.
"We sort of look for patterns," Whitney explained in how he makes the annual predictions. And he conceded that conditions now are very similar to 2002 and 2011.
That is a particularly significant conclusion.
In 2002, the Rodeo-Chedeski Fire burned about 468,000 acres. And the 2011 Wallow Fire consumed more than 538,000 acres.
"We remember those years and the fires we were on in those years," Whitney said. Then, turning to his map of predictions for this year, he added, "I'm concerned about that."
Whitney acknowledged that one perennial issue is when to fight fires and when to simply try to contain them.
He said the debate goes back to the beginning of the 20th century over whether to simply let fires "operate as a natural agent in the ecosystem."
Whitney said the decision pretty much was made when there were large fires at the same time in Washington, Montana and Idaho.
"The policy then became the 10 a.m. policy, where every wildfire was supposed to be suppressed no later than 10 a.m. the following day," he explained. "We got so successful at that we created a fuels problem."
He said the goal now is to find a balance and find times "to allow fire to operate more naturally to do some of the work that we need to have it do for us."
But Whitney said that has to be governed when it's "ecologically appropriate." There has to be an assessment of risk.
"We've got some phenomenally predictive tools these days," he said. "If we look at a fire and say, 'You know what? It's going to get hotter and drier and the wind's going to blow up here in about three days,' and it's kind of locked in the gun sights of Pine-Strawberry or Payson or Flagstaff or the Williams watershed, we've got to go get it."
Howard Fischer reports for Capitol Media Services.