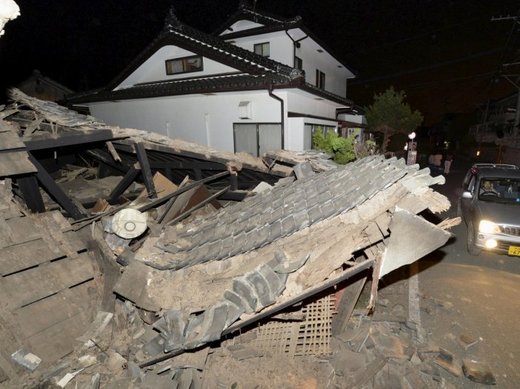 At least 44,000 people evacuated following 6.4-magnitude quake that killed at least nine
Tens of thousands of people have been evacuated from earthquake-hit southern Japan as dozens of aftershocks struck and officials monitored nearby volcanoes for signs of activity.
A total of
44,000 people were evacuated
late on Thursday in the town of Mashiki after a magnitude-6.4 earthquake collapsed buildings and damaged other infrastructure.
Nine people have been confirmed dead
, ranging in age from 29 to 94. A further eight are in serious condition, and
more than 850 were injured
.
The Japan Meteorological Agency (JMA) has warned
there are likely to be strong aftershocks for the next week
and advised people to stay away from any buildings that look unstable.
There are also concerns about volcanic activity in the wake of the quake.
The island of Kyushu, where the earthquake happened, is a highly volcanic area. A level 2 warning - meaning people should not approach a volcano's crater - has been in place for Asosan in Kumamoto prefecture on the island since November 2015.
Head teacher Sosuke Tanaka hosted about 300 people at West Hiroyasu elementary school, which was turned into an evacuation centre, and said many in Kumamoto suffered a sleepless night. "We saw earthquakes through the evening, so many did not manage to get a proper night's rest," he said. About 120 aftershocks have been observed since the initial earthquake, more than 15 of which measured 3 or higher on the Japanese intensity scale.
At the Mashiki gymnastics centre, Yoko Marume said more and more people have been evacuating since the earthquake. "We had about 200 overnight, but now, I would say there are about 500," she told
the Guardian
. "People have been gathering here from across the city, it's a big space. Most are shaken, many believe that their houses could fall down."
Junko Seto, an 80-year-old woman, told the
Asahi Shimbun
: "My husband returned to our house to see how things looked, and he says there isn't room to stand because of the mess caused."
"I want to go home and get things in order, but with the aftershocks I am too scared to go home yet."
Japan's Self Defense Forces have entered Hiroyasu, in a mountainous region of Kumamoto prefecture, to inspect the damage caused to roads and housing by the earthquake. "There has been significant damage to wooden housing around here," Tanaka told
the Guardian
.
Rations of bread and water were distributed to evacuees in the early hours of Friday. Marume said lunch boxes had arrived for evacuees at the gymnastics centre.
The initial temblor measured a maximum 7 on the Japanese intensity scale, equivalent to the force of the 1995 Kobe disaster and the March 11, 2011, earthquake in east Japan. So far, however, the damage caused in Kyushu seems low in comparison.
A spokeswoman for the JMA said: "We are watching closely, but we have seen no change in Asosan or other volcanoes since the earthquake."
Sakurajima, in neighbouring Kagoshima prefecture, erupted in February.