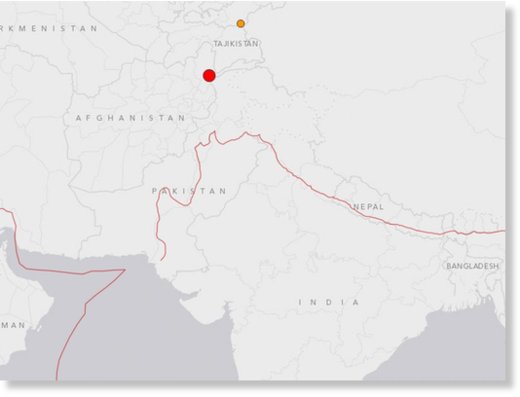 A powerful earthquake has struck the border area between Afghanistan, Pakistan and India, with tremors felt in Delhi and Islamabad.
The quake was intially measured at magnitude-6.6 and depth 210km by the USGS, though there were no immediate reports of casualties.
Reports from across South Asia described buildings swaying for more than a minute with tremors felt in the Pakistani city of Lahore some 630km from the epicentre.
Pakistani official Arif Ullah said the magnitude-7.1 quake was centered near Afghanistan's border with Tajikistan. Germany's GFZ Research Center for Geosciences set the quake's magnitude at 6.5.
Tremors were also felt in the Indian capital and in Kashmir, witnesses said, with some people working in high-rise buildings in the Indian capital rushing into the streets. The Delhi underground system was also halted briefly, commuters told the NDTV channel.
In Kabul, Omar Mohammadi, a spokesman for the Afghanistan National Disaster Management Authority, said officials were collecting information but no reports of casualties or damage had been received so far.
Additional reporting by agencies