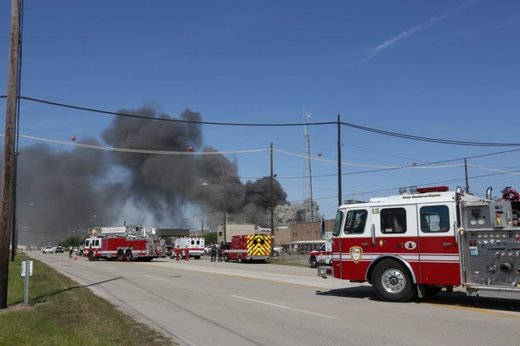 A large fire broke out Friday morning at a LyondellBasell refinery in southeast Houston, sparking a shelter in place order for much of the area.
The blaze started at about 10 a.m. at Houston Refining in a coker unit that's part of the refining process, said LyondellBasell spokesman Scott Buchman. The facility is located at at 12000 Lawndale near N. Allen Genoa.
The fire was declared under control and tapped out at noon,
according to the Houston Fire Department.
There were no known injuries
, Buchman said. HFD officials said all employees were accounted for.
No toxins were detected in air safety tests, Buchman said.
Houston Fire Department officials said
a cleaning fluid and heavy fuel were burning. It's is not known what sparked the blaze,
but the company has begun an investigation into the cause.
OSHA will also investigate the fire. The organization conducted an on-site inspection on March 9 and that inspection is still open.
To help the firm's crews battle the flames, HFD has 25 pieces of equipment at the scene and the Port of Houston Fire Boat is headed to the site. Other fire departments are also providing aid.
A shelter in place was issued from Sims Bayou to Broadway and Manchester to Park Place, according to HFD officials. People in the area are asked to remain indoors. It was lifted at 11:15 a.m.
Nearby Deady Middle School has received formal notification to shelter in place, according to Houston Independent School District spokeswoman Ashley Anthony. At Rucker Elementary and Chavez High, administrators have told students and staff to stay inside as a precaution, she said. The schools have also canceled all outdoor activities.
There is no need to pick up students early at this time, according to officials.
The facility is one of the largest refineries in the nation that processes heavy-sulfur crude oil
, according to the company's website. It can transform very heavy high-sulfur crude oil into clean fuels such as reformulated gasoline and low-sulfur diesel. Other products include heating oil, jet fuel, olefins feedstocks, aromatics, lubricants and petroleum coke.
The company has earned 13 national safety awards in the last five years, according to the site.
It also had 10 safety violations during a 2009 OSHA inspection, many related to the mishandling of hazardous chemicals. In 2008, a crane collapsed during a maintenance operation there, killing four workers and injuring seven others.
The facility is the only refinery owned by the global petrochemical giant. In the past, LyondellBasell CEO Bob Patel said the company may consider selling the refinery at some point.
According to LyondellBasell's chemical inventory, the refinery can house more than 10 million pounds of methyl mercaptan.
That's more than 430 times the amount that spewed into an enclosed building at DuPont's La Porte plant in November 2014, killing four workers there.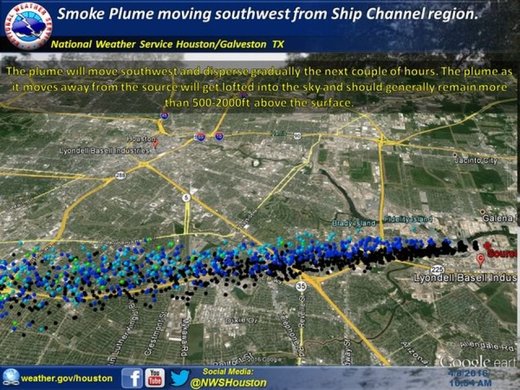 The fire erupted a day after flames broke out at the ExxonMobil complex in Baytown, That fire was sparked about 4:40 p.m. Thursday, sending heavy clouds of smoke along Bayway Drive near West.
No injuries were reported in the blaze. The company said an investigation will be conducted to determine what sparked the fire.
The ExxonMobil facility is 3,400-acre complex that includes the nation's
second-largest refinery and a sprawling petrochemical plant.
More details will be reported as the story develops.