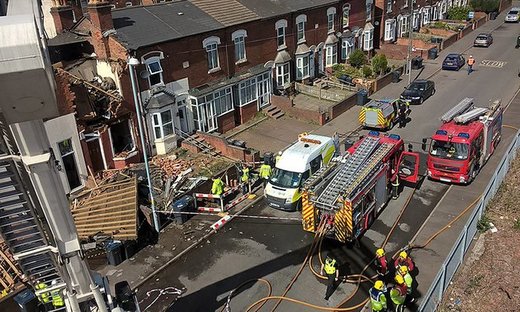 A man has been rushed to hospital with serious injuries and three people have been left homeless after a gas explosion in a house in Birmingham.
The West Midlands fire service was called to the two-storey house in Wiggin Street, Ladywood, at about 12.20pm on Wednesday for what was initially reported as a house fire. When they arrived at the home it had been almost completely demolished, in what was later confirmed as a gas explosion.
Police on the scene reported that the roof of the house had been blown up and the rest of the house was "basically rubble". Neighbouring properties were also badly damaged in the blast.
Two casualties were confirmed by the West Midlands ambulance service. One man, who was believed to be in the property at the time of the explosion, made his own way to Birmingham City hospital, where he was treated for serious burn injuries.
The extent of his burns were so serious he was taken by ambulance to the major trauma centre at Queen Elizabeth hospital in Selly Oak, where he was being treated by specialists.
A woman who was also believed to be in the property when the incident occurred managed to escape from the wreckage and was attended at the scene by ambulance staff. She was discharged without serious injury.
Three houses were affected by the blast, and three people have been left homeless and in need of emergency accommodation.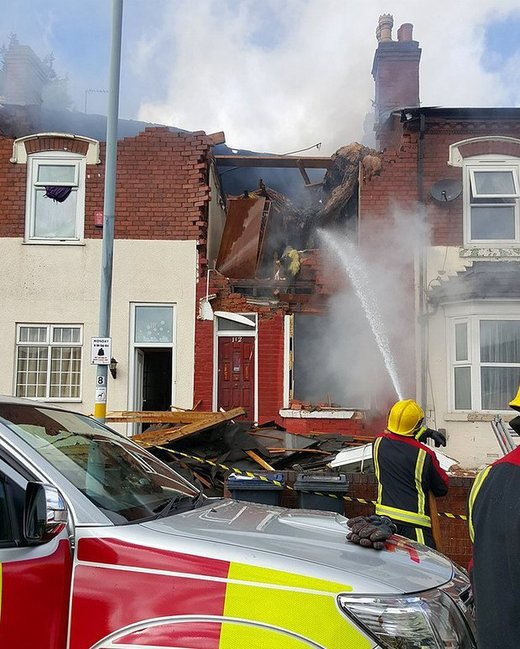 Three fire engines and an aerial hydraulic platform were dispatched to tackle the aftermath of the explosion, and were joined at the scene by police and ambulance crews. A search and rescue dog was also requested.
Wiggin Street was shut by police in both directions, and the public advised to avoid the area. Residents of nearby properties were evacuated as a precaution, and National Grid engineers isolated gas to neighbouring houses.
A structural engineer from Birmingham city council was at the scene to assess the damage, and firefighting operations were suspended to allow inspection of the properties affected.