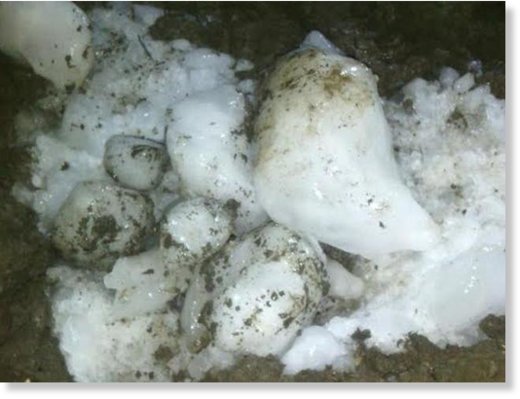 Reeling under an early heat wave, people in Harda district of Madhya Pradesh received a cool surprise — an ice chunk weighing about 30kg falling from the sky.
The chunk, believed to be a megacryometeor (ice-stone) or blue ice, came crashing down in a field on Monday, creating a three-foot-deep crater upon impact. This comes nearly three months after a similar incident in Sagar district in which a 60-year-old woman was injured.
The latest incident occurred at Nousar village in Timarini, 40km from Harda district headquarters. The field belonged to Raj Kumar Patil, whose younger brother Jitendra Patil was irrigating it at the time. On hearing the thundering sound, locals came running to the field to find the chunk had broken into three.
Jitendra said another chunk came crashing down in a field nearby. "I was very scared. Nearly 14 seconds after the first chunk of ice fell, another smaller chunk fell in a nearby field.
We informed other villagers who came rushing," he said.
Harda collector Srikant Banot said he will inspect the site and also rope in geologists and other experts. He said in all probability, it was blue ice from a plane flying overhead at a great height. He said he had sent the sub-divisional magistrate to the spot to submit a report.
According to a research paper, 'Isotopic studies of megacryometeors in western India' published in March 2013, ice-stones or megacryometeors form suddenly even during non-cloudy, clear sky when there is no thunderstorm activity.
"Although their formation is not clearly understood, they are considered to have an origin different from large hailstones. The research paper is based on four unusually large ice-stones weighing several kilograms which fell in western India (Rajasthan, Gujarat and Maharashtra ) during October - November 2010.
According to authors of the research paper, many causal mechanisms have been hypothesized for the formation and fall of megacryometeors that include aircraft icing, blue ice or waste water released from aircraft lavatories, leakage from aircraft water tanks, condensation trails of jet planes
and extraterrestrial origin.
They also pointed out that, according to Martinez-Frias who has collected data on ice-stones falls across the world, "megacryometeor fall frequency has increased since 1950 and that 46 fall events have been recorded between 2001 and 2006 alone".