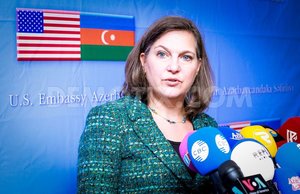 Victoria 'F**K the EU' Nuland's visit to Azerbaijan last year had analysts wondering whether something was afoot. While Nuland surely wouldn't visit a country in order to oversee destabilization along Russia's border (she's never done than
that
before, right?), a heated conflict between Armenia and Azerbaijan would
do just that
. The sudden and violent eruption of this 'frozen conflict' at a time of
vastly improving Iranian-Azeri-Russian economic and military cooperation
provides both the means and motive for NATO/Israeli forces - an opportunity to destabilize Russia and Iran in one blow.
Historical background
Armenia and Azerbaijan have been at war two times over the Nagorno-Karabakh region - once in 1918 and the second time in 1988, in the last years of the Soviet Union. Azeris began massacring Armenians in Azerbaijan, causing a large number of people to flee. Then they attacked the ethnically Armenian Nagorno-Karabakh in Azerbaijan with a modernized military, attacking people trying to defend themselves with hunting rifles or whatever they could get hold of. The Azeris blockaded Nagorno-Karabakh and all transport and shipments into Armenia proper. Turkey joined the blockade, while Georgia was having its own civil war with Abkhazia, making border crossing there very difficult. So the only border Armenia had that wasn't blockaded (or impaired) was its Iranian one. That blockade is still in place today, although the Georgian border has generally calmed down.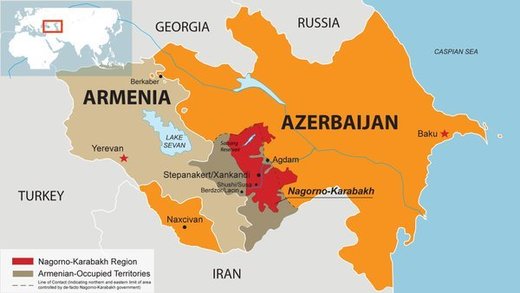 On December 10, 1991, Nagorno-Karabakh held a referendum for independence, as was its right under international and USSR law. The vote, done in the presence of international observers and media representatives, saw 82.2% of Karabakh's eligible voters participating. They overwhelmingly approved Karabakh's sovereignty, with 99.89% of the ballots supporting independence.
As the conflict continued, the Armenians started winning battles when some volunteer military commanders came from Armenia proper (and some from overseas) and began to organize the military operations. They also got some light arms. Each battle the Armenian side won, they seized the weapons of the retreating Azeri forces. Among the confiscated weapons were Turkish and Israeli tanks and artillery, and, of course, left-over Soviet equipment. Interestingly, there were Ukrainian volunteers fighting on the side of Azerbaijan.
Azerbaijan's air force was not very effective. The Armenians use a primitive but effective air defense system: cable nets they would stretch across the mountains and lift as the helicopter gunships and fighter jets came to attack their positions in the foothills and valleys, causing them to crash (this technique was most used in Shushi).
In 1992, a military and strategic turning point was reached when the Karabakh defense forces secured the Lachin Corridor, opening a direct connection with the border of Armenia. From this point on morale skyrocketed and the lifeline for supplies made continued victories much more likely.
By 1993, Azerbaijan sued for peace. There was a ceasefire agreement, which Azerbaijan immediately began violating. The ceasefire didn't hold and hostilities resumed. By the spring of 1994, Azerbaijan had lost practically the whole of Nagorno-Karabakh, including strategic heights. The ceasefire agreement brokered by Russia and the OSCE is still nominally in place, despite regular but relatively minor violations leading up to the latest breakout of violence.
The Aliev clan and associated oligarchs have been dominating Azerbaijan since the collapse of the USSR. The Azeri elite have brainwashed their population to be totally paranoid and blame all their problems on Armenians. The Azeri establishment also brutally terrorizes and cracks down on dissent among the Azeri population, usually calling them traitors and accusing them of being Armenian spies. Like Ukraine and Crimea, Azerbaijan was basically a Bolshevik creation - it didn't exist before 1918.
The last war thus ended in 1994, with Nagorno-Karabakh resting in the hands of the Armenians. This is fitting, since
95% of the region
is ethnically Armenian. However, neighboring relations quickly deteriorated, with Armenia finding its borders to Turkey and Azerbaijan closed, thus shutting off vital trade routes which Turkey stubbornly refuses to negotiate. As a result the oil-rich Azerbaijan came out on top with massive arms sales from Israel, the capital Baku
hosting the CIA's terror sites
, and the country recently shooting down an Armenian helicopter in 2014, with ceasefire violations continuing apace since.
Then, over the course of March 2016, the Azerbaijan Defense Ministry
issued
numerous
reports concerning Armenia's numerous violations of the fragile ceasefire in the region. However, as analysts have pointed out, Armenia had nothing to gain from initiating such a conflict. They had enough problems on their hands and had nothing to gain from initiating a larger conflict which would destabilize the region.
On March 21st,
media reports
revealed that Azerbaijan fired 2400 "retaliatory" shots at Armenian positions, thus thawing a 'frozen conflict' at a time of vital Russian-Iranian-Azeri economic and military cooperation. While both sides blame the other for violating the ceasefire, the rhetoric coming from Azerbaijan has been especially volatile, with the ambassador to Russia
claiming
the country is 'ready to find a military resolution to the conflict.' Vice speaker of Russia's State Duma Sergei Zheleznyak said it best when he
stated
,
"[N]either Azerbaijan nor Armenia essentially need this exacerbation now."
He also stated that,
"[T]here is every likelihood that this provocation has been organized by a third force," adding that "information on its presence is beginning to leak out."
Interestingly, a week before this escalation, the Minsk Group Co-Chairs responsible for mediating this ceasefire held a closed-door meeting. However, observers have noted that it differed from the usual format in that it
featured
'no representatives of the civil society, only experts, including ones from Western countries.'
It is rather interesting, in this context, that last December
an Azeri parliamentarian introduced a bill which attempted to revoke the US co-chairmanship in the Minsk Group
for the settling of the conflict in
Nagorno-Karabakh
. Perhaps someone foresaw such an outcome.
On April 7th, the
Stratfor
website relates that the Foreign Ministers of Russia, Iran, and Azerbaijan were to meet to discuss further economic and political cooperation. More on that below.
Geopolitical perspective
By March, Iran and Azerbaijan had begun inking extremely critical economic, military, and resource-sharing agreements, one of which was leading to a railway aimed at connecting Russian-Iranian-Azeri
territories
. This in and of itself would have been a major move forward for Eurasian integration, weakening Turkey/NATO's meddling influence in the
region
:
Looking at the broader regional context of the Azerbaijani president's visit to Iran, two important developments play to Russian interests even more than Iran's. On the one hand, Russia is using the Azerbaijani-Iranian transport talks as a pretext to propose a trilateral meeting of their foreign ministers (APA, February 29). This type of trilateral ministerial-level format is something of a Turkish foreign policy trademark in the region.

Thus given the current standoff in Russian-Turkish relations, coupled with Tehran's own anxiety toward Ankara, this development appears to be a joint initiative by Moscow and Tehran, potentially aimed at weakening Turkey's active diplomacy in the South Caucasus. Baku has little room for maneuver in this respect.
Iran had also been developing a military relationship with the
Azeris
:
In April 2015, Iran and Azerbaijan announced their decision to form a joint defense commission; a move that may indicate a conspicuous geopolitical shift in the South Caucasus. In May 2015, deputy chief of foreign relations at the Secretariat of the Supreme Leader of Iran's Islamic Revolution Mohsen Qomi has expressed his country's readiness to support Azerbaijan. He told chairman of Azerbaijan's State Committee for Work with Religious Organizations Mubariz Gurbanli who visited Tehran, "We are ready to support Azerbaijan at any time".
With all this in mind it's no shock that NATO's pitbull Turkey has
come out
on the side of their Azerbaijani partner, with Israel playing its usual role in the shadows.
A few weeks back a Turkish lobbying firm was busy drafting a letter specifically for US lawmakers, a letter which primed them for the conflict by
claiming
that 'the Russians are coming, and Armenia is helping them.' Now Turkey is
sending
mercenaries and trainers to further fan the flames of conflict, while Novorossia Today
reports
that Israel and NATO are sending advanced weaponry in preparation for an escalation in conflict.
So it comes as no surprise then when Jordanian Foreign Minister Nasser Judeh makes
this
not-so-cryptic remark:
Saudi Arabia had been "very good at clipping the wings of Iran's foreign activities, including Africa," and he noted that the Saudis had "re-engaged in Azerbaijan and in Asia so they can stand up against Iran".
With Russia allied with Armenia, the looming threat is that a large-scale confrontation will draw Russia into the war on their side, with disastrous effects. No doubt Russia has seen this coming, and has cards ready to play, since they seem to be the last great power to take a bold stand against the world's darkest pathocracies.