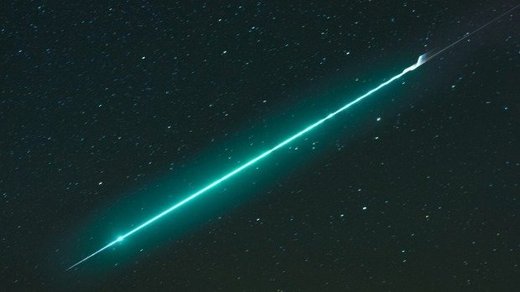 A meteor lighting up the sky above New Zealand has been seen by star gazers from across the country.On Tuesday night Weatherwatch.co.nz reported it had received dozens of reports of a meteor in the hour from 9pm.
Those who'd sent in reports described the meteor as being green with a white tail and said it appeared to be close to the Earth.They said it was spotted just after 9pm, and was travelling from east to west.Sightings came from Titahi Bay in Wellington - a resident in Pikarere StrD said it was "big, bright, turquoise coloured".
Sarah from Whanganui wrote that she had seen what looked like a bright green, large meteor. "Never seen anything like this, ever." A Manawatu resident said: "It was gorgeous. I've seen shooting stars before high up in the sky, but this was a granddaddy one."
In Mt Roskill, Auckland, it was mistaken for fireworks. "But this thing was no fireworks, the green cluster of light, was the size of a basket ball, heading horizontally on a downward slope across the sky."