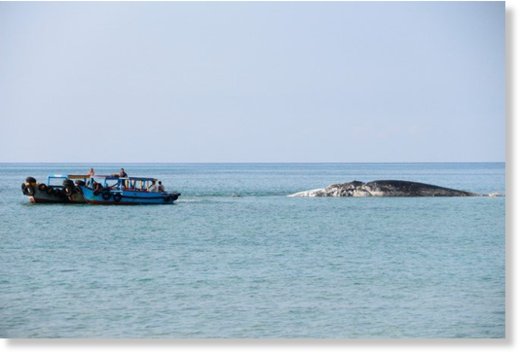 Fishers in the central province of Binh Thuan on Monday found a dead giant whale and towed the carcass ashore for funeral rituals.
A fishing boat with 18 crewmen spotted the floating body of the whale near Phu Quy Island at 11 a.m. on Monday.
They then called other boats to the site to help tow the whale ashore.
The animal, considered sacred by Vietnamese fisherfolk, was finally brought to a beach at 4 a.m. on Tuesday. The whale was estimated to be 10 tons in weight.
Local authorities said it was the largest dead whale ever found in Phu Quy District. They said the animal will be buried under traditional rituals.
All along the Vietnamese coast, whales are revered as harbingers of good luck at sea.
Temples and festivals worshipping the creatures can be found everywhere.