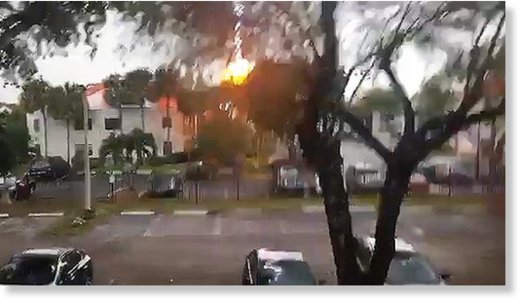 Florida's Palm Beach County saw 1,700 lightning strikes in just two hours during Tuesday's storms, according to the National Weather Service.
Lightning storms of this magnitude are only seen a few times each year, on average, meteorologist Robert Molleda told the Palm Beach Post.
During Tuesday's storms, some 2,500 lightning strikes were measured in the county.
A lightning strike knocked three Boca Raton firefighters off their feet as they put out a backyard fire that had been ignited by a previous bolt. One of the firefighters was flung about 15 to 20 feet,
and began having a seizure. The other two remained conscious. All three have recovered.
Florida ranks tops nationally for the number of cloud-to-ground strikes per square mile, with 1.2 million bolts per year.