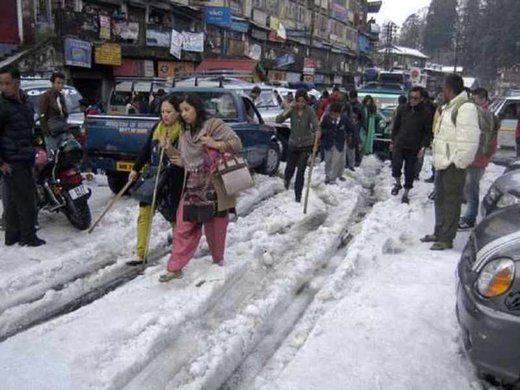 Darjeeling, the Queen of the Hills, was today enveloped in white after a sudden hailstorm hit the town area in the afternoon continuing relentlessly for nearly an hour. The fall was so heavy that hailstones accumulated in many places disrupting traffic till late in the evening, and pedestrians too had a very difficult time walking in the streets.
Darjeeling district magistrate Anurag Srivastav said, "There have been no reports of major damage from the town area apart from traffic getting disrupted due to the accumulation of hailstones. But the municipality has started clearing the roads."
The only damage worth noting was the collapsing of the roof of the basketball court of Loreto Convent School. The school's authorities said the incident occurred after lunch when all the students were inside the classrooms. Meanwhile, municipality officials said they were trying to restore normalcy and the hailstones would be cleared out by late evening. Locals were also seen helping the civic body workers in clearing the footpaths and streets in town.
The Mall area and Chowrasta, the favourite haunt of tourists and locals alike, were packed with people enjoying themselves. Subhojit Biswas, from Dum Dum, Kolkata, said, "This is the first time I have been here and had never experienced something like this. My visit to the hills has been worthwhile."
Town resident Rajeev Lepcha said,
"I've been living in Darjeeling for almost 40 years now and I had never experienced such a phenomenon. What happened today was simply amazing."
Meanwhile, the Darjeeling Tea Association was sombre, with an official saying the hailstorm will affect the tea gardens. DTA principal advisor Sandeep Mukherjee said, "The hailstones will definitely affect the tea gardens this is the time when 10 per cent of the first flush is produced. Now, production will likely be pushed back by two weeks although it will take some time to assess which gardens were the most affected."