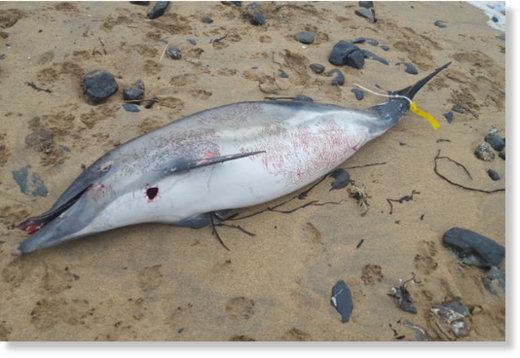 Conservationists say there has been the biggest rise in the number of dead dolphins, porpoises and whales found off Cornwall since 2006.
Sixty-one dead cetaceans were recorded between January and March
by Cornwall Wildlife Trust.
The trust said previous post-mortem tests showed animals had died from pollution, illnesses, natural causes and after being caught in fishing nets.
A fishing co-operative said deterrents, including pingers, were being used.
Scientists have been working with the fishing community to fit boats in Cornwall larger than 14m with the devices, which let out a noise to repel the creatures.
Abby Crosby, from the wildlife trust, said it was unclear how the cetaceans had died this year, or the reasons behind the rise, as the data from the post-mortem examinations was yet to be released.
"The most important piece of advice is for people to report these sightings of stranded cetaceans so we can gather more information on what is killing them," she said.
Stranding records only included animals that had died and the last peak was in 2006, which was thought to be caused by large scale fishing activity off the Cornish coast at the time, she added.
Paul Trebilcock, from the Cornish Fish Producers' Organisation said: "Cornish fishermen have been at the forefront of using acoustic pingers.
"All of this is hopefully contributing towards a reduction in the interaction between fishing gear and cetaceans."