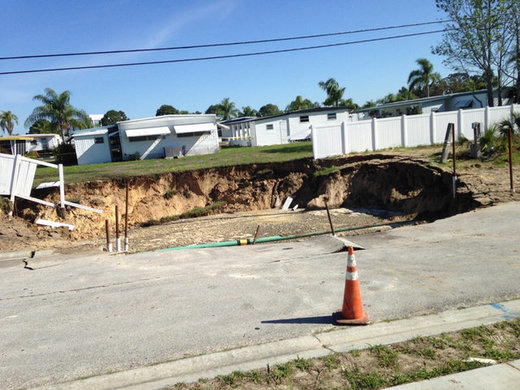 A 80-foot wide sinkhole forced the evacuation Wednesday of several homes in a Tarpon Springs neighborhood.
Residents in the Tarpon Shores Mobile Home Park at 89 Rachel Drive are being told to seek shelter at a nearby community center, according to authorities. About seven homes have been evacuated.
The sinkhole has grown engulfed a fence, utility pole and portion of a nearby road as it continued to grow Tuesday. It is also estimated to be roughly 35 feet deep and filled with water.
City contractors were repairing a previous road collapse when the hole opened Wednesday morning. The hole affected a 30-inch sewer line, a 6-inch sewer line and 4-inch water line. Water has been turned off at the Olympic Plaza near Mango Street and U.S. 19.
Duke Energy has responded to the scene because the hole is impacting at least two power poles.
Crews told Action News reporter Erik Waxler that water was shooting into the air when the hole was first discovered on Wednesday morning.