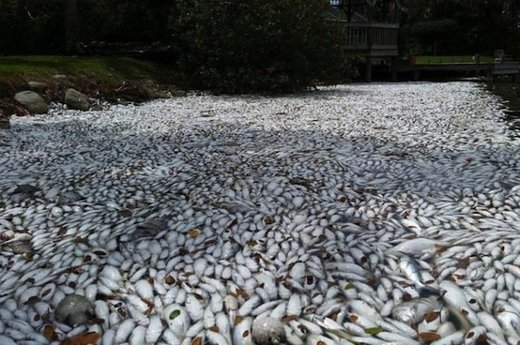 A massive sea of dead fish is clogging Florida's waterways for miles in the latest distressing die off that is rattling scientists. Hundreds of thousands of bloated, decaying fish of nearly every kind known in the area are massed along beaches and choking tributaries and estuaries in the state's Indian River Lagoon ecosystem.
"The heartbreaking images can be seen for miles," Mike Conner, who has been fishing the area for decades, told CNN. "All up and down the coast, it's the same story, and it could get worse before it gets better."
He added: "
Our oysters are dead, seagrasses are dead.
" It will be "hard to recover," he added. "You never fully recover."
The lagoon network is comprised of the Indian River, Mosquito and Banana River lagoons that make up the Atlantic Intracoastal Waterway along eastern Florida. It's the most biodiverse lagoon ecosystem in the Northern Hemisphere and is home to more than 3,000 species of plants and animals
Captain Alex Gorichky, a conservationist who runs a small fishing tour company, told the
New Times
that he's seen "every species of fish in the lagoon" dead, including redfish that have been breeding for 35 years. "The stretch is 30 miles (48km) long, and we're looking at devastating amounts of fish floating throughout that whole stretch," he said. "It's not an isolated incident; we're talking about wide-open expanses of rivers, canals, pockets of water with no tidal flow," he added. "We're going to have a serious problem once they start decaying."
The exact cause hasn't yet been pinpointed, but experts believe the mass die-off is linked to a number of factors. For one, unusually heavy rains from an El Nino year are washing fertilisers and pollutants into waterways, killing the fish. In addition, warmer-than-usual winter temperatures nurtured the growth of a toxic algae bloom and brown tide that depleted the water of oxygen, which is also fatal to fish.
"We have had brown tide there before but nothing to this extent," said a spokesman for the Florida Fish and Wildlife Research Institute.