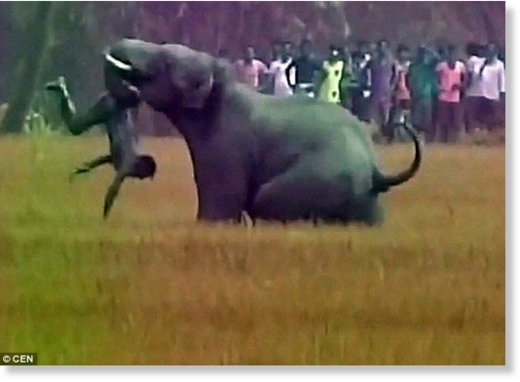 This is the shocking moment when an elephant kills a man by throwing him in the air and trampling him to death in east India.
It is the latest deadly attack by the wild elephant herd in the rural West Bengal area in the past few days.

The wild herd has been causing havoc in the Bardhaman and Bankura districts, where it has killed four villagers and injured two others this weekend.
Prakash Boyra, 40, died after one of the elephants threw him into the air with its trunk and then trampled him.
Images filmed by fellow villages show the man being flung into the air like a rag doll by the huge animal, who slams him back onto the floor as people look on horrified and helpless.
Boyra had gone to check on his land near Baghasole village after hearing of the elephants' rampage, when he came in the way of the herd.
According to Divisional Forest Officer Ajay Kumar Das, the herd of five elephants had entered the area from Dalma forest in recent days.
Personnel from the forest department personnel had pushed three of the elephants back into the forest but they returned, 'damaging crops and killing and injuring people.'
Anandamoyee Rai and Narayan Chandra Maji, both 60, were trampled to death when they had gone to the fields near Nashigram village in the early hours of Sunday.

Siraj Sheikh, 45, was working in his field when he was killed in a subsequent elephant attack, which also left two people injured.
West Bengal forest minister Benoy Krishna Burman said the victims were trampled after angering the elephants by throwing stones to try to scare them off.
The male elephant died when it was hit by a tranquilliser dart fired by forestry officials summoned to help, and the other three - a female and two calves - ran away, Burman said.
Wildlife experts say encounters between humans and elephants are increasing in India's rural areas due to the destruction of the animals' habitat.
Last month a wild elephant went on an hours-long rampage in a town in eastern India, damaging about 100 homes, shops and other buildings.
Photos showed the bewildered animal wandering around Siliguri, about 360 miles north of Kolkata, crashing into structures, as people scurried out of the way.