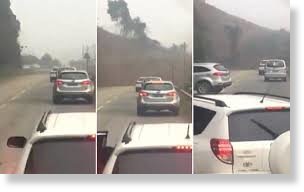 A massive landslide was captured on camera on March 18 as it buried a highway in Anhua County, located in central China's Hunan Province. Despite its scale, no casualties or vehicle damage have been reported.
Chinese state media
CCTV
speculate that a heavy rainstorm on Thursday night contributed to the minute-long landslide, which hit the G536 Expressway at around 9:10am.
Speaking on behalf of her father who shot the video, the woman surnamed Zou told CCTV that drivers had stopped after noticing stones and other debris falling quickly down the hillside.
Chen Liping, an Anhua County highway bureau official, was quoted as saying that a clear-up operation would begin immediately and the highway would be back open by the end of the following day.
With mountains and hills making up more than 80 percent of Hunan Province, the region is no stranger to landslides. In July 2014, five people were killed and over 1,300 homes were destroyed after torrential rains triggered a number of major landslides across the province.