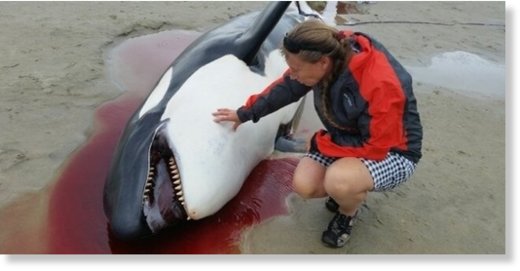 An orca that died on Mangawhai Beach may have drowned and Northland orca expert Ingrid Visser is concerned for the lactating whale's orphaned calf.
Dr Visser is hoping results of a necropsy will determine exactly how the orca died, but
, with no obvious signs of damage to the whale, which was in "pristine condition",
she believes it may have drowned.
An orca can drown if its blowhole is covered and she said, as orca don't have much flexibility in their neck, she would not have been able to lift the blowhole out of the water, as she was found on her side.
"It's a real tragedy when any orca dies like this, but she was lactating - we could see the milk coming out while she was lying there and it was really sad - and she has a wee baby out there somewhere," Dr Visser said.
The calf could be aged between a few weeks and 18 months. She said there had been reports of an orca pod in Whangarei Harbour and at Waipu Cove this week and it was possible the dead orca was a member of that pod, but she wouldn't know for sure until she examined photographs of the pod.
Dr Visser said the orca washed up on the beach just north of the Mangawhai Heads Surf Life Saving Club, early yesterday morning and she got the call about 8am. She immediately drove to Mangawhai from Whangarei to examine the orca.
She said it was common for NZ orca to hunt in shallow waters, which was "a risky business".
It's the second report of an orca dying on a New Zealand beach this week after another stranded on the beach at Patea on Monday.
Dr Visser said, as in that case, Mangawhai locals, including police, members of DoC and iwi, yesterday rallied round when the orca was discovered. It was given a burial by the iwi, with help from a contractor using a digger.
Channel North news producer Rose Stirling was called to cover the event and had hoped she would be covering a whale rescue.
But, Ms Stirling said the whale was just a few metres from the waves on the beach and it was quickly evident the whale was dead.
"My first thoughts were it was dead. I went up to it and touched it because I've never seen a dead whale before. It felt like rubber, kind of like a tyre," she said.
"It was quiet surreal to see such a majestic animal washed up on the beach. I was hoping we would be filming a rescue ... it was quiet tragic."
Source: Northern Advocate