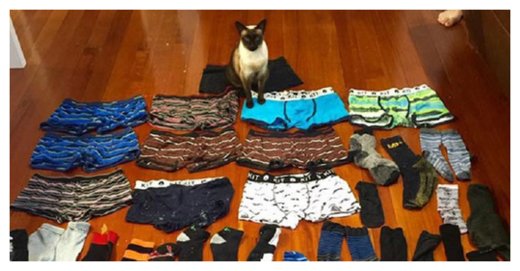 A 6-year-old cat burglar with a taste for men's underwear is terrorising the streets of Hamilton.Like many cats, Brigit the tonkinese is a nocturnal hunter - but her prey is specifically socks and boxer briefs. The cat, who lives on George St in Hamilton East, has brought home 11 pairs of underpants and more than 50 socks in the last two months.
And those are just the ones her owner Sarah Nathan has kept.
"It's all men's. It's really, really weird. She's got really specific taste."
Nathan suspects they all belong to the same unlucky neighbour. She said Brigit has been collecting menswear for about two of the six months they've lived at the current property. At their previous home she was thieveing as well - but was less specific.
"In our last house she'd bring home a bit of everything - she'd bring home men's undies, women's undies, togs, she even brought home a hockey shin pad and a jumper.
"She was much less discerning - now she's decided menswear is the thing - and it's a very specific kind of underpants that she likes," Nathan said.
"She stopped when we moved to George St, but she's obviously got herself acclimatised, because now she's rampant again.
"It's an absolute obsession. A night does not go by without her bringing things home. I got up this morning and there were another four socks in the house."
Brigit sometimes puts her booty on Nathan's bed, or at it's base. Sometimes they're left outside the cat flap.
"We just did a really big gardening session and we found a whole bunch of them stuck in the fence."
Nathan said she thought Brigit may have tried to jump over the fence with them and got them stuck.The cat thief also sometimes leaves them on the front and back doorstep - and she like to get both socks in a pair.
"One will be at the front door and one will be at the back door - so she's obviously gone back to get the matching sock," Nathan said.
Luckily she thinks they're clean.
"They feel as if they've come off the washing line - they've got that crispy feeling."
She said they were moving to the country soon - where they would be living on a two acre property - so hopefully the neighbours would get some respite.But before they go, Nathan is desperate to find the owner of the socks and pants so they can be reunited.She's distributed flyers on her street and posted on Facebook.
"I've got this massive bag... You think someone would've noticed."
The socks vary - there are workmen's socks, sporty socks, black, grey and stripey socks. There's even 'Cat' brand socks.
Brigit also recently brought home a heap of boy's undies.
"I feel so bad about it - someone is spending a fortune on underwear," she said.
Since she posted about the cat thief on Facebook, a lot of people had shared stories of similar experiences - but none so extreme, and so specific.
"Brigit is just more dedicated to her hunt."