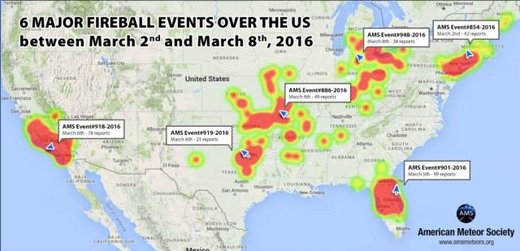 While March is usually a slow month for meteor showers as none of the major annual events occur this month, the American Meteor Society has reported
six major fireball events since March 1
and NASA says fireballs can increase as much as 30 percent in spring.
A fireball is defined as a meteor that is brighter than the planet Venus and usually has a bright trailing tail.
The reason for the increase in fireball activity is "still unknown," NASA says, but one thought is simply that more space debris litters the Earth's orbit near the spring equinox, which is March 20.

Comment: Sure, more space debris is littering Earth's orbit near the spring equinox now - as in, this is a new phenomenon!


According to the AMS,
2016 has seen an increase in the number of reported fireballs
.
Since Jan. 1, 910 fireballs have been reported through its online report program, compared to 839 reports received during the same time last year
.
On March 5, 99 fireball reports were made in central to northern Florida. Two people in Davie reported spotting a fireball with one noting that "it fell out of a cloud" making the angle of entrance hard to determine.
This fireball was caught over Missouri on March 4: