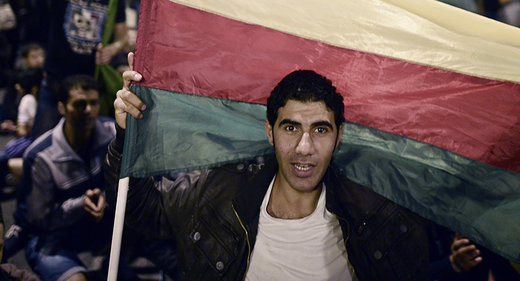 After the transparent false-flag bombing of civilians in Ankara on Sunday (see:
Erdogan slaughters Turkish civilians in Ankara and takes immediate vengeance on the Kurds
), Erdogan has ramped up his mad rhetoric, calling for
the definition of terrorism to be broadened
to anyone indirectly involved in or supporting terror activity: "It's not only the person who pulls the trigger, but those who made that possible who should also be defined as terrorists, regardless of their title."
By that definition, Erdogan himself is guilty
: he may not personally torture and behead innocent civilians in Syria, but he and his government provide those who do with money, arms, and logistical support.
But that's not what he means.
He wants anyone who supports groups like the Kurds in their struggle for self-determination to be deemed terrorists.
In other words, anyone with a conscience. The hypocrite-in-chief also had
this to say
:
The bloody terrorist act was directed against all of Turkey, against all 79 million citizens of the country. Through this attack, the terrorist organization has revealed its despicable face. The attack aimed to sow fear among our people, forcing Turkey to reject its principles. But they will never succeed in this. Those using terror as a tool will never make Turkey kneel. On the contrary, they will kneel themselves.
As I mentioned in my article with Joe Quinn linked above, Turkey took immediate "vengeance" against Kurds in Iraq and Turkey after the bombing. A police officer and three PKK militants are
the latest victims
of the Turks' blood-lust in Diyarbakir, where over 120 civilians have been murdered and almost 7,000 houses have been damaged in the last months' assault (that's the official number, local Kurds say it's much higher). The city is blockaded and under curfew. Unsurprisingly, Turkey has also
continued bombing
Syrian Kurdish territory since the Ankara car-bomb. The YPG informed both the Russian and American centers about the ceasefire violations. If anyone has a right to self-defense,
it's the Kurds
.
Speaking of the Kurds, despite calls from Russia and the U.N. mediator for Syria, Steffan de Mistura, to support their participation in the Geneva talks,
they have not been invited
, prompting their representative in Russia to say, reasonably: "Whatever is decided [in Geneva], we reserve the right to decide whether to abide by it or not, depending on whether it is in our interests." There are rumors that they will be invited further on. They should have been invited from the beginning, and the fact that certain parties do not want them represented at the talks just goes to show that a lasting peace is not their top priority.
Russia's decision to remove the main part of their forces from Syria is working its magic. Not only are Western media morons' absurd claims that Russia found itself in a costly quagmire and killed civilians proven false, pretty much all Western warmongers and their apologists are now forced to begrudgingly praise the move and commend Russia's devotion to a real peace. As usual, the U.S. was caught off-guard by the announcement, but
praise is now coming in
from Obama, de Mistura, the foreign ministries of Germany, Iran, China, Angola, etc. Salim Ali, a representative of the Syrian Popular Front for Change and Liberation had
this to say
:
The most important [thing is] that we [have] reached the stage of political settlement. It is a signal to all parties that it is necessary to find common ground, that all sides must find a compromise.

Russia proved to the entire world that it is a strong power, it is necessary to take into account its view. It proved that it can immediately take decisive action, when the country's national interests are at threat. It also proved that Russia doesn't leave its allies on their own.
The Saudi-backed High Negotiations Committee called Russia's move a "positive step", and even said they were open to
direct negotiations with Assad
. In response, Lavrov gave the Saudis a pat on the head for good behavior. But while Russia is scaling back its military in Syria, the U.S. and Saudi Arabia continue to talk a big game. The Saudis commented on their plans to
send ground troops into Syria
, saying that when they did, it would as part of the U.S.-led coalition: "We've already said that troops, including from the international coalition, will be sent to Syria in the fight against terrorism. We're not tied in any way with the presence of Russian troops in Syria. Saudi Arabia makes judgments on what's there, not by what's said.
This issue
depends on the Americans who head the coalition. They may set an approximate date, but so far there have not been any meetings on the level of military experts."
As for the state of the
Syrian ceasefire
, seven more towns signed truce agreements, bringing the total up to 51 (the number of armed groups remains 42). Fifteen violations took place, and the Russian Center delivered four tons of aid to Ain Bad in Hama province, with plans for convoys to Aleppo, Damascus and Homs. Syrian civilians informed the center that al-Nusra terrorists are keeping more than 40 people in a prison located in Abu al-Duhur (Idlib province).
Finally, a bit of good news. To mark the end of Russia's air campaign, Russian Deputy Defense Minister Nikolai Pankov opened a square dedicated to Russian-Syrian friendship at Hmeimim airbase:
"Today we are opening a square of Russian-Syrian friendship — a symbol of the unity of the Russian and Syrian people... Allow me to express my sincere appreciation and gratitude to the military groups, our Syrian comrades, all participants in the operation to combat international terrorism on the territory of the Syrian Arab Republic," Pankov said.