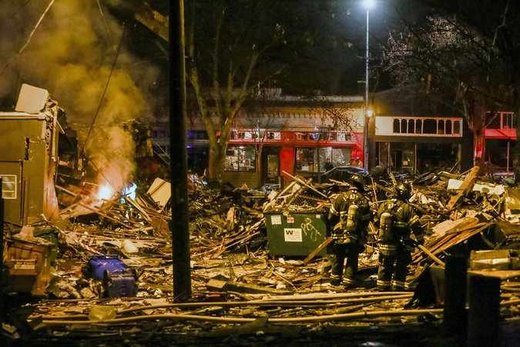 An
explosion
in Seattle on Wednesday flattened two buildings and shook a neighborhood, prompting a large response by emergency officials. At least nine firefighters were reported injured in the blast. The suspected cause was a
natural gas
leak.
The explosion, reported around 1:45 a.m. Pacific time,
was so loud
that it could be heard as far away as Shoreline, a community about 10 miles north of downtown Seattle.
The police and
firefighters
descended on the scene, near the
intersection
of Greenwood Avenue North and 85th Avenue North, in Greenwood, a neighborhood in the north-central part of the city.
The blast shook the neighborhood, which is known for its concentration of restaurants, bars and coffee shops and has of late been home to middle-class families and upscale professionals.
According to The
Seattle Post-Intelligencer
, the explosion
leveled
two buildings, one of them a convenience store, and blew out several windows of nearby buildings.
The Fire Department said that
67 employees
were sent to the scene.
The television station KING said that a
natural gas leak
had been reported about 40 minutes before the explosion. A reporter for another station, KOMO, said that the explosion resulted in large amounts of
shattered glass
.