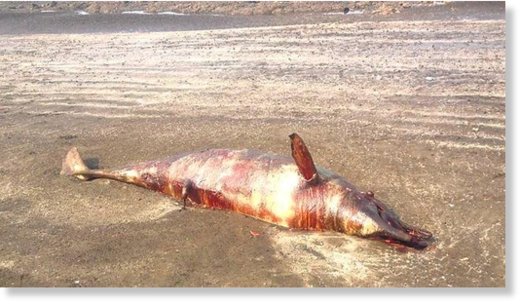 Bodies of three Indo-Pacific humpbacked dolphins have been found at different locations along Mumbai's coast in the past two days.
A 10-foot-long dolphin was found on Wednesday morning at Bhuigaon beach at Vasai. Residents from the area spotted the mutilated carcass around 6.30am and informed local municipal authorities and the forest department.
"The dolphin had several injuries on its head, body and tail," said Mecanzy Dabre, a local.
"The carcass remained on the beach even in the evening since nobody took it away."
On Tuesday, the body of a six-and-a-half-foot dolphin was washed ashore at Gorai beach and was seen by locals around 10am.
While officials from the forest department were clueless about the incident at Vasai, they sent the carcass found at Gorai for an autopsy at the Bombay Veterinary College.
Officials from the forest department said the dolphin weighed nearly 100 kg and was found stranded at the fishing area close to the beach.
"
We reached the spot on Tuesday around 11.30am and saw no visible external injury on the carcass,
" Makarand Ghodke, assistant conservator of forest, state mangrove cell, said.
Sources in the forest department said a third dolphin had washed ashore at Girgaum Chowpatty at 5.30pm on Wednesday.

A 40-foot whale had washed ashore at Juhu beach last month and last year at least three dolphins too were found dead on various beaches in Mumbai.