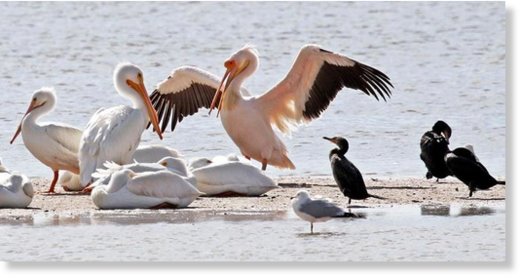 We live on the Nile. The Nile we love.
By night we sleep on the cliffs above;
By day we fish, and at eve we stand
On long bare islands of yellow sand
— From "The Pelican Chorus," by Edward Lear
Sanibel Island's a long way from the Nile, but a great white pelican has appeared at the
J.N. "Ding" Darling National Wildlife Refuge
there —
a good 4,000 miles from its home range, and the first time the Old World species has been recorded in North America.
Unlike the more common brown pelicans seen in Southwest Florida, which max out around 11 pounds and have a 6 1/2-foot wingspan, or even the larger American white pelican, which winters here, these birds can tip the scales at 33 pounds, with an almost 12-foot wingspan.
First spotted Sunday, the stray pelican immediately made waves in the birding community, including among "Ding" Darling staff, who promptly made it the
refuge's Facebook cover photo.
"A magnificent bird," declared refuge wildlife biologist Jeremy Conrad.
Low-tide birding at 'Ding' is always excellent this time of year, "but this sighting just adds another level of excitement here at the refuge," says supervisory ranger Toni Westland.
Because the bird's facial skin is yellowish, it's likely a female. Males have pinker skin. It appeared healthy and getting along well with the other pelicans nearby, said Fort Myers pediatrician and passionate birder Jose Padilla-Lopez, who quickly hustled out to see and photograph it.
"Birders are avid 'tickers' — you keep a list of birds you see, and birds that appear out of their usual range (like this one) are a big deal," Padilla-Lopez says.
Yet the very bigness of the deal has already created some controversy, he says. "Birding has rules, so you can't count birds in some situations. Dead birds, caged birds, birds in zoos or aviaries are not countable," he says, and there's a debate on social media about whether this pelican is, in fact, countable. "It could be an escapee from a zoo or a private owner," though this bird has no identifying tags or bands, Padilla-Lopez says. "Some are dismissing it off the bat as an escapee, others — rightly so in my view — want to give it time and consider that it may be a vagrant (and countable) bird."
Countable or not, the extraordinary bird's presence underscores the importance of places like "Ding" Darling, Westland says.
"We know national wildlife refuges are critical places for wildlife and this justifies why we need them - safe places for all species to rest and feed. Even if this is just a stopover for a visiting rare bird like the great white pelican, refuges are critical."